MRS Series Axial Flow Fans
The MRS Series fans are large airflow, high static pressure and high-efficient AC input axial flow fans, available in frame sizes ranging from 5.51 in. to 9.84 in. (140 mm to 250 mm). Models are also available with built-in alarm circuits that can detect fan rotation abnormalities and respond by outputting alarm, allowing for service to be performed.
A Variable Flow model is also available in a frame size of 7.09 in. (180 mm) and features an internal power control device which allows adjustment of airflow to match the cooling requirements.
Low Speed Alarm Types
An alarm is output when the fan speed drops due to the service life of the fan or ingress of foreign objects. This makes it possible to order and replace the fan with a new one before it stops.
If multiple cooling fans are being used, it is possible to only replace the cooling fan with decreased cooling capacity. Even if the cooling capacity of the fan decreases, the effect on the equipment can be minimized.
Axial Flow Fans
Axial flow fans use a propeller to generate airflow in the direction of the axis of rotation. Capable of generating a large air flow, axial flow fans are suited for applications requiring ventilation cooling.
Device Ventilation and Cooling
The large airflow of axial flow fans is suitable for ventilation and cooling inside electronic devices.
Thermostat Available for Energy Saving

Thermostats (sold separately) make it possible for fans to operate only when cooling is necessary. Thermostats provide energy-saving by automatically stopping fans for example, at night, when the amount of heat generation declines following the load rate's decline in equipment, or in winter, when the ambient temperature drops and forced cooling is not necessary.
Cooling Densely Mounted Devices with One Fan
Effective cooling is possible using a large cooling fan offering high static pressure. Using one large axial flow fan is more efficient than using multiple small axial flow fans. they are also suitable for equipment with high blower, high duct air flow and high installation density.
Product Lineup
Frame
Size

Power Supply (VAC)

Max Air
Flow*


Max Static
Pressure*


Standard

Alarm Type

5.51 in.
(140 mm)

177 CFM
(5 m3/min)
0.437 inH2O
(109 Pa)

6.30 in.
(160 mm)

258 CFM
(7.3 m3/min)

0.63 inH2O
(157 Pa)

7.09 in.
(180 mm)

452 CFM
(12.8 m3/min)
0.982 inH2O
(245 Pa)

Variable Flow
7.09 in. (180 mm)

-

452 CFM
(12.8 m3/min)
1.02 inH2O
(255 Pa)

-

7.87 in.
(200 mm)

547 CFM
(15.5 m3/min)
1.06 inH2O
(265 Pa)

9.84 in.
(250 mm)

848 CFM
24 m3/min)
1.65 inH2O
(410 Pa)
883 CFM
(25 m3/min)
View Products - View all available part numbers in the MRS Series
*Air Flow and Static Pressure vary based on Power Supply, please refer to product specifications for exact values.
Static Pressure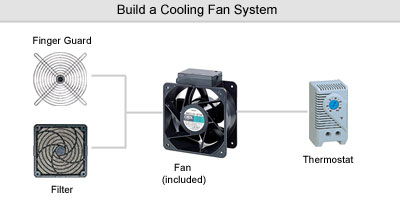 Finger Guard

Finger guards prevent fingers or foreign objects from entering the fan. Finger guards are mounted to the fan frame using bolts.
| | |
| --- | --- |
| Fan Size | Finger Guard |
| 5.51 in. (140 mm) | FG14D |
| 6.30 in. (160 mm) | FG16D |
| 7.09 in. (180 mm) | FG18D |
| 7.87 in. (200 mm) | FG20D |
| 9.84 in. (250 mm) | FG25D |
Filter

When using a fan to cool machinery, dust may accumulate inside the machinery after long periods of operation. Depending on the parts involved, this could cause a malfunction. These filters prevent dust from entering the device, keeping the air inside the machinery dust free.
| | |
| --- | --- |
| Fan Size | Filter |
| 5.51 in. (140 mm) | FL14 |
| 6.30 in. (160 mm) | FL16 |
| 7.09 in. (180 mm) | FL18 |
Thermostat

Thermostats automatically perform ON/OFF fan control in accordance with the temperature fluctuation inside the equipment. It helps improve the equipment's "environmental" performance relative to energy savings, noise reduction, etc.
Fan Kits

Various accessories will help you improve the safety and utility of fans. We recommend our fan kits, which combine the fan and necessary accessories in a convenient package.
Includes Fan, Mounting Screws and either a Finger Guard or Filter.