Controllers - EMP400 Series Stored Program Controller
The EMP400 Series controllers allow for easy programming using simple commands. The dual axis model provides coordinated moves via linear interpolation. Using RS232C with or without optional operator interface unit OP300, various motion profiles can be achieved by using up to 32 sequence programs.

One program can be dedicated as a STARTUP program. The EMP400 Series is designed for optimal performance with any of Oriental Motor's standard pulse input drivers.
Pulse Oscillation
Various operation commands are provided for positioning operation, return-to-home operation and dual axis linear interpolation functions. The operator only needs to set the parameters on the controller to make it perform as desired.
Sequence Function
A series of operation patterns can be programmed using dedicated commands. This is an ideal function for distributed system control.
I/O Control
General-purpose I/O signals are provided in addition to dedicated I/Os such as pulse output and limit-sensor input. Synchronization with peripherals is also possible.
Pulse Oscillation
Fast Response Time
The time between a START signal input and a pulse output is 2 ms or less.
High-Speed Positioning & Low Vibration
The jerk-limit control function allows you to set a shorter acceleration/deceleration time compared with the use of linear acceleration/deceleration patterns. This reduces the overall positioning time.
What is jerk-limit control?
This term refers to the acceleration/deceleration patterns used to ensure the smoothness of speed change at the start of operation or when the machine enters a constant-speed mode from an acceleration mode. Since speed can become smoother, vibration is reduced.
Positioning Operation
Supports both incremental modes (travel amount) and absolute mode (absolute-position).
Linear Interpolation Operation
Two axes are controlled simultaneously, allowing direct movement to a target position.
Operator Interface Unit OP300
Set the travel amount via teaching or monitor the current position. The unit comes with a 2 m (6.6 ft.) cable for connection with the EMP400 Series.
Teaching Function
The amount of travel can be changed by jogging the load into position via the optional OP300 interface.
EMP400 Series Stored Program Controller
The EMP400 is designed to work with a wide range of motion control solutions: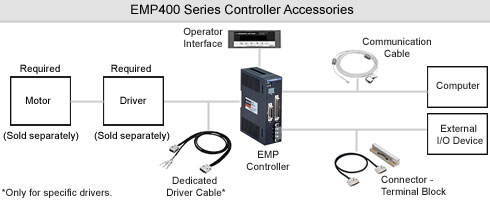 Build a complete system online by selecting your base motor and driver and adding all necessary accessories and/or controller.
Operator Interface

Set the travel amount via teaching or monitor the current position. The unit comes with a 6.6 ft. (2 m) cable for connection to the EMP400 Series.
Communication Cable

This is a 16.4 ft. (5 m) cable with a D-sub 9 connector at one end for the RS-232C communications between the PC and the EMP400 controller.
Dedicated Driver Cables for EMP Series*

One end of the cable is a half-pitch connector that snaps into the driver for the RK Series. The other end of the cable is equipped with the connector for the EMP400 Series controller.
*For use with RK Series Driver.
Model
Connector
Length
CC01EMP5
CN1 (20 pins)
3.3 ft. (1 m)
CC02EMP5
6.6 ft. (2 m)
Connector - Terminal Block

The EMP400 Series and programmable controller can be connected via a terminal block.