Compact Design and High Position Accuracy
The compact and lightweight body houses the rotating components as well as the linear motion mechanism of the stepper motor. The DRL Series helps to achieve a significant reduction in the size of your equipment and system.
To meet the user's requirements for higher positioning accuracy, a ground ball screw model is available [repetitive positioning accuracy: ±0.0002 in. (±0.005 mm)].
Quick Lead Time
Need this product quick? Oriental Motor offers the best lead times in the industry. This product is available to ship within 5 business days( 1-10 pcs.). Order online or contact your local sales office.
Product Application Demos

Click to View Demo #1

Click to View Demo #2
Reliable Design and Structure
The hollow rotor shaft incorporates large bore bearings for the direct handling of thrust loads. Minimizing the number of parts involved in linear conversion results in higher reliability.
The figure above shows a structure of the standard type (rolled ball screw shaft). A set collar (on the screw shaft), which prevents the screw shaft from retracting completely into the case, is being ommited in this figure.
Significantly Fewer Parts
The compact body houses the entire linear-motion mechanism, with some of the conventional parts eliminated for a more streamlined structure. This substantially reduces the man-hours required for design and assembly of our equipment, so you will enjoy higher production efficiency.
Wide Range of Variations
Ground Ball Screw

or Rolled Ball Screw

Ground Ball Screw
Ideal for applications where high positioning accuracy and low vibration are required, such as optical devices and semiconductor systems that use fine-feed pitches. The DRL ground ball screw type achieves high reliability by maximizing the performance of a 5-phase stepper motor.

Rolled Ball Screw
Ideal for general positioning applications where reliability and ease of use are given priority. It combines the superior thrust and resolution of the ground ball screw type with greater ease of use.
Standard or Guide Type
The DRL Series actuators are available in standard or guide types. If you choose standard type, you must provide an external anti-spin mechanism.
Standard Type
Guide Type
High Resolution and

Standard Type Motors
The high-resolution motors achieve high accuracy and reliability based on Oriental motor's latest precision machining technology. The motor resolution is increased to double the level of a standard model to reduce the displacement angle against torque, thereby achieving high position accuracy. Frame sizes of 1.10 in. (28 mm), 1.65 in. (42 mm) and 2.36 in. (60 mm) are available.
In fine-feed operations by microsteps, the actuator will not operate until the initial motor torque exceeds the friction load. The high-resolution motor, with its high output torque, allows the torque to pick up quickly and thereby ensures smooth operation even with fine-feed.
Additional Features
The standard type and guide types are available with an electromagnetic brake and/or adjusting knob as additional functions.
Adjusting Knob
The load position can be adjusted manually when the power is cut off. This function is useful during servicing of the equipment.
Electromagnetic Brake
The load position can be held when the power is cut off. Since the work will not fall in case of power failure or disconnection, you can safely use equipment in which the work moves vertically.
Compact DC Input Board Driver
Compact DC Input Board Driver Meeting the Space-Saving Needs
The compact, lightweight driver implements microstep drive. The new IC provides a wide range of functions, including the following:
Smooth Drive Function
1-pulse/2-pulse input mode switching
25 microstep drive resolutions
Power LED
Photocoupler input
Connector with lock (by MOLEX)
Conforming to major safety standards
Compact Microstep Driver
The microstep drive system allows you to set high resolutions up to 1/250 of the basic resolution of the actuator. This function is effective in meeting your low-vibration/low-noise operation needs at low speeds. The high-performance driver is also compact and lightweight, achieving a reduction of approximately 47% in size compared to a conventional microstep driver.
Smooth Drive Function
The Smooth Drive Function automatically controls the motor's microstep drive operation at the same travel and speed in the full-step mode, without the operator having to change the pulse input settings. This function is especially useful when used in the full-step or half-step mode.
Product Lineup
View Products = View all DRL Series Compact Linear Actuators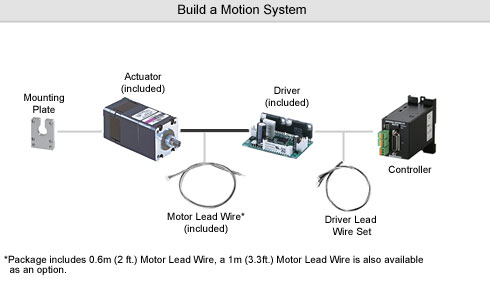 Mounting Plate

A dedicated mounting bracket for installation of the DRL Series actuator. Each mounting plate comes with mounting screws for fastening the actuator to the plate.
Driver Lead Wire Set

These lead wires are used to connect the driver with the actuator, controller and DC power supply. The driver lead wire set includes three lead wire/connector assemblies (for actuator, power supply, input/output signal). One end of the lead wire is crimped therefore crimping is not necessary.
Motor Lead Wire*

These lead wires with connectors are available for connecting the DRL20 and high-resolution models.
*A motor lead wire of 2 ft. (0.6 m) is included with the motor and driver package.
Controllers
Controllers are devices that output pulse signals needed to operate a linear actuator. Controllers let you make various settings to control your motor and also permit connection with a host programmable controller and sensors or PC. Select a controller that best suits your system.
Technology Training Videos
ORIENTAL MOTOR offers monthly Live Seminars as well as On Demand Training Videos.
To view the On Demand Videos you will need register or log in above.