High Thrust Force
These models are ideal for applications where the load is pushed (pressured) directly or with a pressure jig such as a die set used on a press machine.
Large Transportable Mass
The load can be transported directly without using an external guide.
Space Saving
The shape of the motor cable outlet was changed to eliminate dead space. The total length of the cylinder is shorter for every stoke or model, which enables space-saving design of your equipment.
Built-in LM Guide®
The LM Guide® is housed within the motorized cylinder and as a result the EZA Series achieves a compact size and provides greater ease of use.
No External Guide Required
There is no need for a guide mechanism such as an external guide. This cylinder provides a direct way to perform transferring of a load and a push-motion (pressurized) operation.
Stroke Lengths
A desired stroke can be selected in 50 mm increments.
| | |
| --- | --- |
| Linear Slide | Available Stroke Lengths (mm) |
| EZA4 | 50, 100, 150, 200, 250, 300 |
| EZA6 | 50, 100, 150, 200, 250, 300 |
Quick Lead Time, Guaranteed!
Need this product quick? Oriental Motor offers the best lead times in the industry. This product is available to ship within 7 business days (1-5 pcs.). Order online or contact your local sales office.
Easy Wiring
The linear slide and controller are connected via a single cable and the wiring distance can be extended to a maximum of 20 m (10 m for 24 VDC products). The cable is fitted with a connector for quick connection.
Freedom of Installation
The installation method can be chosen from securing the cylinder's rod surface or base surface. An optional mounting plate for two-axis type, etc. is sold separately.
Supporting Sudden Load Fluctuation and Rapid Acceleration
Adopting a closed loop AlphaStep stepper motor designed to maintain synchronism, the EZA Series actuator eliminates the need for tuning to prevent hunting upon sudden load fluctuation or rapid acceleration.
A built-in rotor position detection sensor constantly monitors the motor speed and position. If synchronism is about to be lost, closed-loop control is implemented immediately. With the EZA Series you can also enjoy greater reliability because the positioning completion signal and position detection function can be used to check the actuator condition.
Stable operation can be achieved without adjustment, even when your equipment is subject to load fluctuation.
Electromagnetic Brake Available
The EZA Series has an electromagnetic brake option, pre-assembled to the back of the motor. The electromechanical brake option is ideal for vertical applications. A separate circuit to control the brake is not required. The electromagnetic brake is released (OFF) when the motor start input is activated and applied (ON) when the motion is stopped.
Common Controller
The controller is capable of controlling a linear slide or cylinder, without tuning.
It lets you use high-performance functions through simple operations. Your controller can also be used as a driver for pulse signal controls.

Up to 63 Points of Positioning Data can be set with Ease
Positioning data can be set in one of three methods, as specified below (when the controller is used in Controller Mode)
1. Enter the desired travel amount (mm) directly.
2. Direct teaching
Move the table or the rod to the target position manually and store the achieved position as positioning data.
3. Remote teaching
Move the table or the rod to the target position using a teaching pendant or data editing software and store the achieved position as positioning data.
Choice of Incremental or Absolute Option
The controller can be used as an absolute system by connecting an optional battery set (sold separately).
Choose the absolute option if you want to start operation from the current position rather than the home position, when the power is turned on, or in the event of a power failure.
Controller Key
A removable controller key is used to store the parameters for the various models. This means that the same controller can be used with the EZS II Series, SPV Series, EZC II Series, EZA Series and PWA II Series.
Two Positioning Data Settings
You can set positioning data in the absolute mode or incremental mode, depending on your preferred movement of the equipment.
Absolute Mode (Absolute-position specification):
Each position is set as the absolute position with respect to the reference point. This is suitable when you want to move the work directly from an arbitrary position to a specified position.
Incremental Mode (Relative-position specification):
Each position is relative, being set as an amount of travel from the current position or another target position for the work.
This is done is a regular feed or other operation where the same pattern is used repeatedly
Two Data Execution Modes
Selective Positioning Mode
The set data can be selected at random
Sequential Positioning Mode
Positioning operation is performed sequentially from the desire data.
Push-Motion Function
The rod can be held in a state of being pushed against the load or similar object, as with an air cylinder. the force used to push the load (push force) can be changed.
Area Output Function
A signal is output when the linear slide table or the cylinder rod enters a set area arbitrarily set along the stroke. One set area can be set.
Linked Operation
Up to four operation data can be linked, thereby allowing the actuator to change speeds without stopping.
*Data with the same operation direction can be linked.
Choice of Two Return to Home Methods
Sensorless Return to Home (only for EZS II / EZC II / EZA Series)
Return to home is performed without the use of home sensors. The home position and return to home speed (maximum of 100 mm/s) can be adjusted and the direction of return to home can also be changed.
Return to Home Using Sensors
Return to home is performed using home sensors. With SPV Series, sensors are included with the product.
Output of Current Position and Error Code
The current position, error code and other data can be output to an external device.
Acceleration / Deceleration
Four patterns of acceleration/deceleration settings are possible according to your operating conditions. Acceleration and deceleration can be set separately.
Operation / Data Setting
You can easily perform all tasks from operation to data setting by using our teaching pendant or data editing software.
Operation Using External Pulse Input
The EZ Limo can be combined with your existing controller to serve as a driver controlling the linear slide by pulse input.
Normal System Configuration - Controller Mode
The linear slide is controlled by selecting positioning data preset in the linear motion controller.
When Combined with the Customer's Controller - Driver Mode
The linear slide is controlled by inputting pulse signals
Speed Filter
Use this filter to suppress disturbances during starting and stopping or to reduce vibration during low-speed operation. With the speed filter function you can control the motor to minimize speed fluctuations even switching the speed rapidly between operation commands.
The set value can be adjusted digitally (over a range of 1 to 100). Increasing the set value makes the movement smoother while decreasing the synchronism with the command.
Stored Program Controller Available
Oriental Motor offers a Stored Program Controller with RS-232C communications. For more information about the Stored Program Controller option please contact Tech Support at 1-800-GO-VEXTA or click here to submit an inquiry.


Product Lineup
Repetitive Positioning Accuracy = ±0.02 mm
Electromechanical Brake Option is available.
Cylinder Size [Frame Size]

Power Supply Voltage

Lead
[mm]

Thrust Force
[N]

Push Force*1
[N]

Max. Transportable Mass*2 - Horizontal
[kg]

Max. Transportable Mass*2 - Vertical
[kg]

Max. Speed
[mm/s]

Stroke
[mm]

EZA4
[42 mm x 42 mm]

12

~70
100
15
6.5
600
50 ~ 300
(50 mm increments)

6

~140
200
30
14
300

12

~70
100
15
6.5
600

6

~140
200
30
14
300

12

~70
100
15
6.5
600

6

~140
200
30
14
300

EZA6
[60 mm x 60 mm]

12

~200
400
30
15
600
50 ~ 300
(50 mm increments)

6

~400
500
60
30
300

12

~200
400
30
15
600

6

~400
500
60
30
300

12

~200
400
30
15
600

6

~400
500
60
30
300
*1 Maximum speed of push-motion operation is 25 mm/s.
*2 When an external guide is used.
View Products = View all EZA Series products.
Controller Mode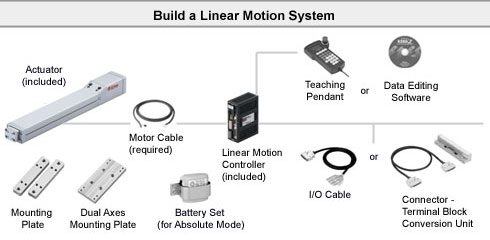 Driver Mode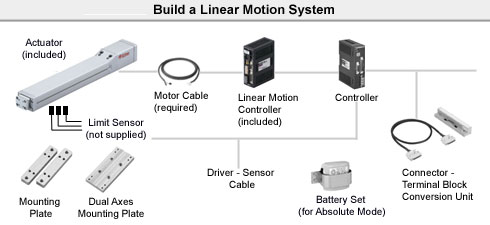 Cables / Sensors

These connection cables are used to connect the linear slide with the controller. Use flexible cables in applications where the cables will flex repeatedly.
I/O Cable

This cable is used for connection between the linear motion controller and the host controller. A half-pitch connector allowing for one-touch connection to the controller is attached at one end of the flat cable.
Connector - Terminal Block Conversion Unit

A conversion unit that connects a driver to a host controller by using a terminal block.
| | |
| --- | --- |
| Model | Connector |
| CC20T1 | For sensor I/O connector |
| CC36T1 | For I/O connector |

The teaching pendant allows you to set and operate various data by hand as well as monitor the set data, current position and I/O status in real time.

With this software you can set and edit various data on a PC. It comes with a PC interface cable for connecting the linear motion controller and PC. The software also provides various monitoring functions.
* One FREE CC05IF-USB communications cable is available per customer, contact Technical Support for more information

This mounting plate is convenient for installing the controller on DIN rails easily.
Mounting Plate

Mounting plates for installing the EZA Series.
Dual Axes Mounting Plate

This plate is available for easy installation of the EZA Series on the table of the EZS II Series motorized linear slides.

This battery set is needed to use the controller in the absolute mode. Dedicated battery holder is included.
Controllers (for use in Driver Mode)
Controllers are devices that output pulse signals needed to operate a linear actuator. Controllers let you make various settings to control your motor and also permit connection with a host programmable controller and sensors or PC. Select a controller that best suits your system.
EMP400 Series - Stored Program Controller (Single or Dual Axis)
Driver - Sensor Cable
This cable is used for connecting the linear motion controller and EMP Series controller
Technology Training Videos
ORIENTAL MOTOR offers monthly Live Seminars as well as On Demand Training Videos.
To view the On Demand Videos you will need register or log in above.