Easy Operation
As with a stepping motor, stable operation can be achieved in high inertia drive and belt mechanism drive applications without gain adjustment using the servo motors. Also, adjusting the gain manually enables operation under even more stringent load conditions.
Achieves High Inertia Drive
With automatic tuning, operation up to 50 times the rotor inertia is possible. With manual tuning, operation up to 100 times the rotor inertia is possible.
Achieves Smooth Operation with Belt Mechanisms
Belt mechanisms can be operated with the same performance as a stepping motor without the occurrence of vibration before stopping.
Quick Lead Time, Guaranteed!
Need this product quick? Oriental Motor offers the best lead times in the industry. This product is available to ship within 7 business days (1-5 pcs.). Order online or contact Technical Support.
Easy Handling
Basic settings and adjustments are made with switches and potentiometers on the front panel. This design allows for easy control without a computer and even saves the hassle of complicated UP and DOWN key operations.
Easy Setting and Easy Monitoring
By using the control module (OPX-2A) [sold separately] or data setting software (MEXE02) [sold separately], it is possible to perform changing of parameters, function setting and monitoring that is better suited to your system.
*Monitoring the operating status waveform requires the data setting software (MEXE02) sold separately.
Simple Connections with Included Cables
The NX Series comes with 3 m (9.8 ft.) cables to connect the servo motor and driver. If you need longer cables or cables offering superior flexibility, appropriate cables are available as accessories (sold separately).
Degree of Protection IP65
These servo motors conform to IP65 and are ideal for use in environments requiring dust resistance and water resistance. (Standard type, electromagnetic brake type, PS geared type: excluding installation surface and connector locations, PJ geared type: excluding connector locations)
4 Control Modes
This servo motor unit can operate in 4 control modes. Also, with the control module (OPX-2A) sold separately or the data setting software (MEXE02) sold separately, the functions of each control mode can be extended.
Position Control
The built-in, high-resolution 20-bit absolute encoder enables highly accurate positioning of the servo motor.
High Speed and High Response
High-speed positioning can be performed utilizing the high-speed and high response characteristics.
Maximum Speed 5500 r/min
Factory Setting Time 60 to 70 ms
Damping Control
Eliminates load resonance by adjusting the potentiometer. This adjustment can be made easily and without searching for the resonance frequency.
<Application Example: Image inspection equipment>
Camera vibration during stopping can be suppressed by using the damping control.
Absolute System
Use as an absolute system by attaching an optional battery (sold separately) is possible. The current position of the encoder can be stored, so resetting after a blackout or similar occurrence is easy.
Speed Control
The reduction of servo motor cogging torque and the use of a high-resolution encoder have substantially reduced variation in rotation in the low-speed range (the flutter characteristic), resulting in smooth operation even at low speeds.
Torque Control
Variation of the generated torque relative to the set torque (torque accuracy) has been improved, resulting in highly accurate torque control.
Tension Control
Tension control such as winding film can be easily performed without using a tension detector or control equipment using the servo motor.
Separate Main Power Supply and Control Power Supply
A control power supply terminal that is separate from the main power supply is provided. Even when the main power supply is cut off in the case of, for example, an emergency stop, operations such as position detection and alarm contents checking can be performed if 24 VDC is provided to the control power supply terminal. (Operation with only the main power supply is also possible.)
Conforms to Semiconductor Equipment and Materials International Standards "SEMI F47"
Conforms to SEMI Standards regarding power supply voltage drop.
Effective for use in semiconductor equipment. (Always evaluate the product with it mounted on actual equipment.)
High Performance Geared Motors
High Permissible Torque and Wide Permissible Speed Range
These geared motors with high permissible torque fully utilize the motor output torque.
PJ Geared Type
Non-Backlash
These geared motors use high accuracy gears with an angular transmission accuracy of 4 arc minutes (0.067°) and backlash of 3 arc minutes (0.05°).
Surface Installation is Possible
There are screw holes that permit installation of a load directly on the rotating surface integrated with the shaft. Since the load can be installed here directly (surface installation), the design is simple when using an index table.
Application Example with an Index Table
Parts that had been necessary, such as pulleys and belts, are no longer needed.
PS Geared Type
Low Backlash
The backlash is 15 arc minutes (0.25°) max. These motors can be used in a wide range of applications.
Compact and Lightweight Design
Compared to the PJ geared types, these are compact, lightweight geared motors.
Extended Functions
With the control module (OPX-2A) sold separately or data editing software (MEXE02) sold separately, the parameters, operating data, resolution, etc. can be set with extended functions depending on the mode used.
Functions can be extended and settings shown on a digital display by using a control module (OPX-2A).
MEXE02 Data Setting Software* is for use of the extended functions. Allows for changes to parameters, add functions and use waveform monitoring to confirm the operation with a computer.
*Cable for connection to PC required for MEXE02 data setting software (sold separately**- see Accessories).
**One FREE CC05IF-USB communications cable is available per customer, contact Technical Support for more information.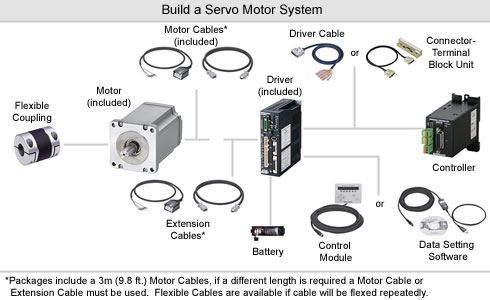 Build a complete system online by selecting your base motor and driver and adding all necessary accessories and/or controller.
Control Options
Using either the optional control module or data setting software you can change parameters, add functions and perform various monitoring operations according to the needs of your system. (See Extended Functions)

Cable for Data Setting Software (CC05IF-USB)
This communication cable is required for connecting to the computer on which the data setting software is installed.
*One FREE CC05IF-USB communications cable is available per customer, contact Technical Support for more information.
Cables / Connectors
Motor Connection / Extension Cables
The NX Series includes a 9.8 ft. (3m) cable for connecting the motor and driver. If a different length is needed a Motor Cable or Extension Cable must be used.
Driver Cable

This is a shielded cable equipped with a half-pitch connector at one end of the cable that snaps onto the driver. The other end is laminated lead wires aligned in order at a pitch of 0.05 in. (1.27 mm), which is convenient for insulation displacement connectors.
Regeneration Unit

Sometimes the regenerative power generated by the motor exceeds the driver's regenerative power absorption capacity. In such a case, a regeneration unit is connected to the driver to release the regenerative power.
Conditions under which a regeneration unit may be required; when using for vertical operation, during acceleration and deceleration time when an inertial load is installed.
| | |
| --- | --- |
| Model | Applicable Product |
| RGB100 | NX45, NX410, NX65, NX610, NX620, NX920 |
| RGB200 | NX640, NX940, NX975, NX1075 |
This three-piece coupling adopts an aluminum alloy hub and a resin spider. The simple construction ensures that the high torque generated by a gear motor can be transmitted reliably. The proper elasticity of the spider suppresses motor vibration.
Battery

This battery is for constructing an absolute system. Position information can be stored during power blackouts or if the driver's power supply is switched OFF.
Accessory Sets


When using analog I/O, purchase an accessory set.
Model
Applicable
AS-SV2
20-pin Connector for CN6 x 1 set,
External Potentiometers x 2 sets (Potentiometer x 2, Scale plate x 2, Insulation sheet x 2, Knob x 2, Shielded cable x 2)
AS-SD1
20-pin Connector for CN6 x 1 set
Controllers
Controllers are devices that output pulse signals needed to operate a stepping motor. Controllers let you make various settings to control your motor and also permit connection with a host programmable controller and sensors or PC. Select a controller that best suits your system.
SCX11 - Universal Stored Program Stepping Motor Controller (Single Axis)
SG8030J - Universal Stored Data Stepping Motor Controller (Single Axis)

Technology Training Videos
ORIENTAL MOTOR offers monthly Live Seminars as well as On Demand Training Videos.
To view the On Demand Videos you will need register or log in to your MyPage account above.
Related Seminar Videos