Clean Dampers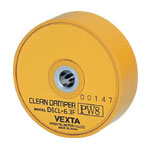 Mechanical dampers suppress stepping motor vibration and improve high-speed performance. An inertia body and silicon gel are hermetically sealed in a plastic case.
Excellent vibration absorption
The doughnut-shaped internal body and silicon gel absorb vibration. This feature enables a stable damping effect.
Since there is no frictional dust as in conventional magnetic dampers, it can be used in environments where higher degrees of cleanliness are needed.
High reliability
Holds up well in harsh environments and changes little with age because the silicon gel and plastic case are heat resistance.
Machine part is sealed hermetically in a plastic case. This ensures safety and doesn't generate noise.
This clean damper is an accessory for double shaft motors. It can be used with various double shaft geared motors.