EZS Closed Loop AZ Series Stepper Motor Absolute Encoder Linear Slides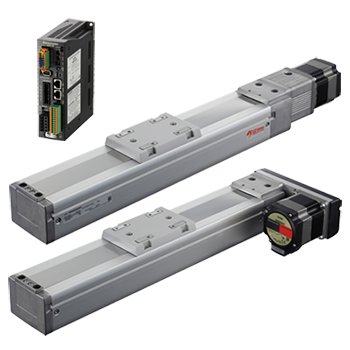 Compact, High Rigidity Electric Linear Slides with simple, dust-resistant structure providing the high response, low vibration and hunting-free operation of a stepper motor in an electric linear slide. A wide variety of options to suit the equipment space and environment, including straight type and reversed motor type. Being compact and rigid, this series is effective in supporting large transportable mass. Available with Pulse Input or Built-in Controller (Network) type driver.

The Built-in Controller reduces the burden on the programmable PLC because the information necessary for motor operation is built into the driver. This simplifies the system configuration for multi-axis control.
Equipped with battery-free absolute encoder stepper motor
Positioning information can be known without a sensor
High reliability using closed loop control
Reduced motor heat and reduced energy consumption through high efficiency design
Electromagnetic Brake available
AC or DC Input

Absolute Mechanical Encoder