1-800-GO-VEXTA (468-3982)
EtherCAT Multi-Axis Controllers / Drivers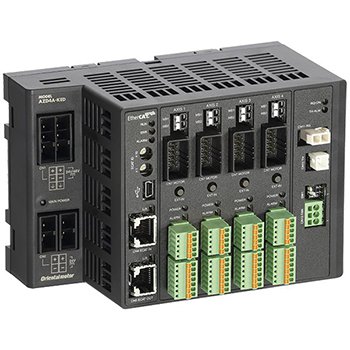 AZ Series EtherCAT Multi-Axis Controllers / Drivers (DC Input)
A multi-axis controller that supports EtherCAT communication.Compatible with the CiA402 drive profile. It can be connected to the AZ Series DC input motors and electric actuators.
2-axis, 3-axis and 4-axis driver connections are available.
24/48VDC
Works with AZ Series DC Input stepper motors and actuators
Multi-Axis Motor Connection Cables required

Product Lineup
| | | | |
| --- | --- | --- | --- |
| Item | Network | Power Supply | Control Power Supply |
| | EtherCAT | 24/48 VDC | 24 VDC |
| | EtherCAT | 24/48 VDC | 24 VDC |
| | EtherCAT | 24/48 VDC | 24 VDC |
Space-Saving and Low-Cost Multi-Axis Controller / Driver (Max. 4 Axes)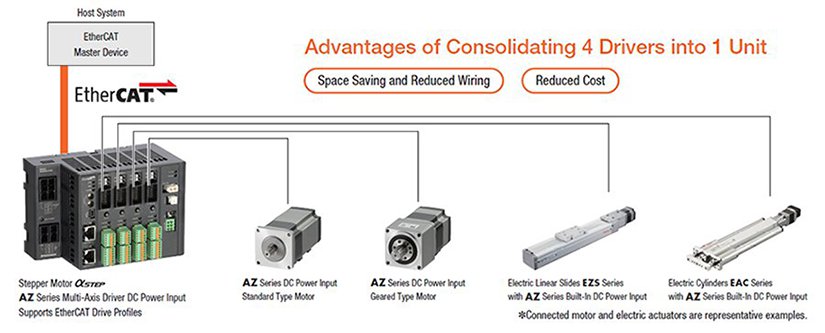 Extended Functions with MEXE02 Data Setting Software
Monitoring Functions
You can monitor the status of all axes at once.
Waveform Monitoring
The operating status of the motor (such as command speed and feedback speed), can be checked by an oscilloscope-like image. This can be used for equipment start-up and adjustment.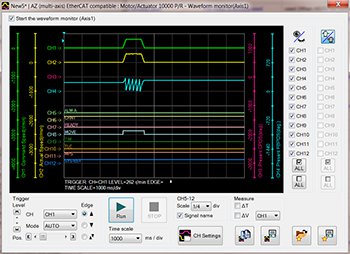 Status Monitor
In addition to monitoring operating speed, motor driver temperature and load factor, you can also monitor total rotation amount from the start of use. 
For each item, you can set up to output signals arbitrarily, so it is effective for efficient maintenance.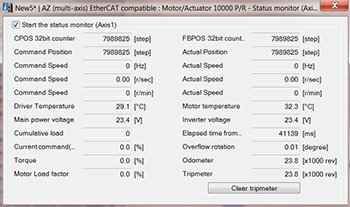 Alarm Monitoring
When an abnormality occurs, the details of the abnormality and the solution can be checked. Because the solution can be checked it is possible to respond to abnormalities quickly.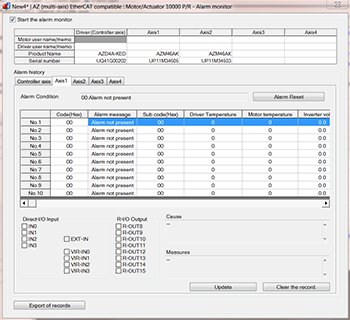 Multi-Monitoring Support
Multiple setting screens such as data setting, test driving, monitoring etc. can be opened simultaneously in separate screens and used. It is easy to start up and adjust the equipment.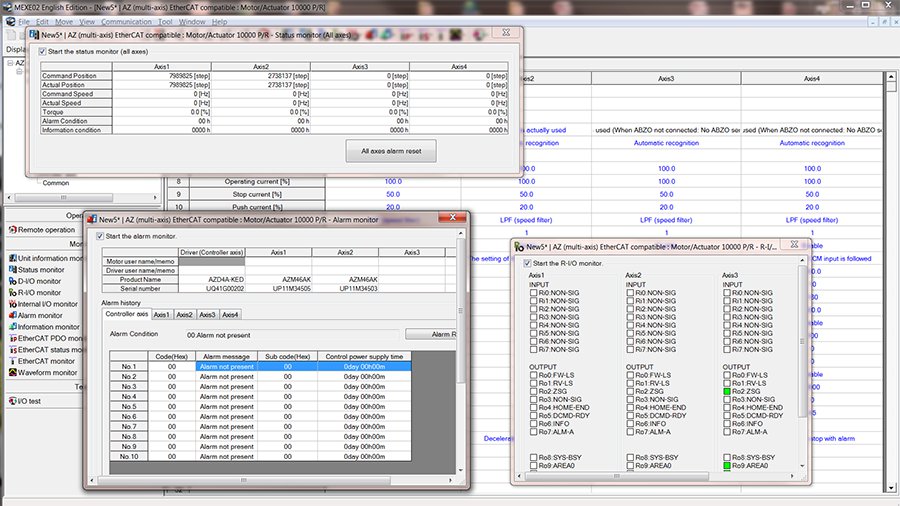 Test Function
It is a function that allows you to operate the motor independently or check connection with the host system. 
By utilizing it at the time of device start-up, it will shorten the time.
Remote Operation
Data setting software can be used to perform the home setting and also drive the motor. This can be used for teaching or test drive purposes.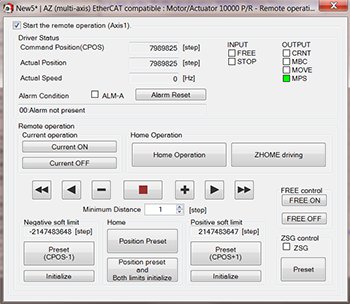 I/O Test
The status of the I/O wired to the driver can be checked on a computer. This can be used for post-wiring I/O checks or I/O checks during operation.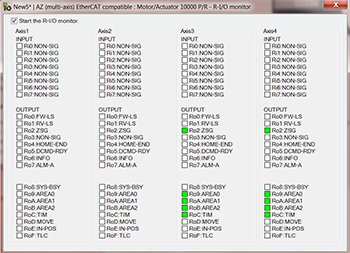 Parameter Settings
You can set parameters directly without going through the network.  Also, you can set each axis without replacing the cable.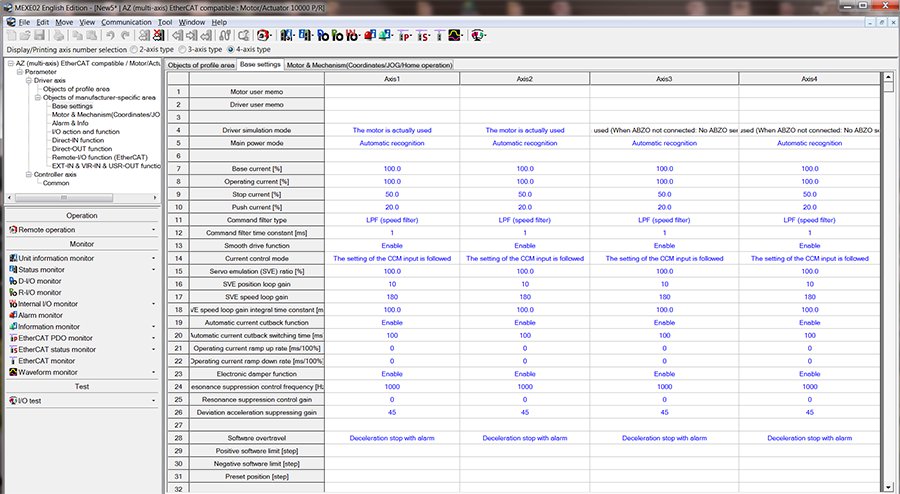 AZ Series Closed Loop Stepper Motors (DC Input)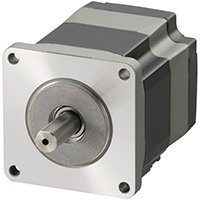 The AZ Series offers high efficiency, low vibration and incorporates our newly developed Mechanical Absolute Encoder for absolute-type positioning without battery back-up or external sensors to buy. Closed loop performance without hunting or gain tuning. Available with a built-in controller or pulse input driver which substantially reduces heat generation from the motor through the use of high-efficiency technology. Requires AZ Series Driver.
Battery-Free, Mechanical Absolute Encoder
Closed Loop Performance, No Hunting or Gain Tuning
DC Input Types
Wide Range of Gear Types for Inertia Matching & Higher Torque
Electromagnetic Brake Type Available
Control Options - Data Setting Software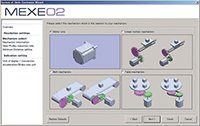 MEXE02 Data Setting Software.
*A standard USB to mini B cable is used to connect all drive options to the computer (sold by a third party).
Multi-Axis Motor Connection Cables (required)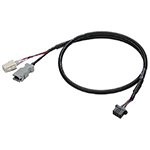 These motor connection cables are required when connecting to the Multi-Axis Controller / Driver.
Power Supply Cables
These cables connect the Power Supply to the Multi-Axis Controller / Driver.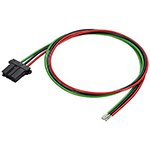 | | |
| --- | --- |
| Type | Product |
| Main Power | |
| Control Power | |
Regeneration Unit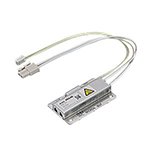 Use this unit if your application involves vertical movement or a large inertia load.
| | |
| --- | --- |
| Type | Product |
| Regeneration Unit | |
System Configuration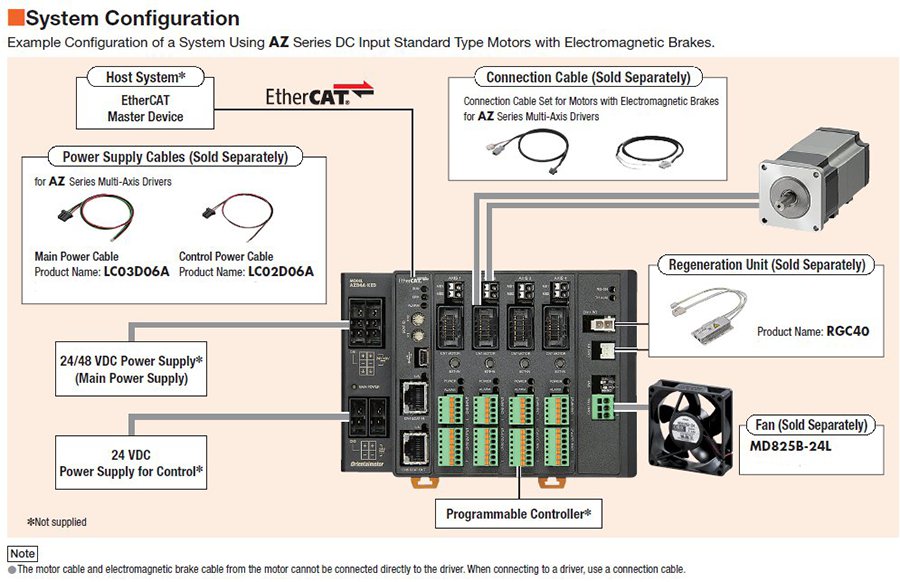 CAD / Manual Search
To locate product CAD and Operator Manuals please search using the product Item Number.
Downloads
Order Literature
Videos
Stepper Motors
Axial Fans