EAC Series Closed Loop Stepper Motor Linear Cylinders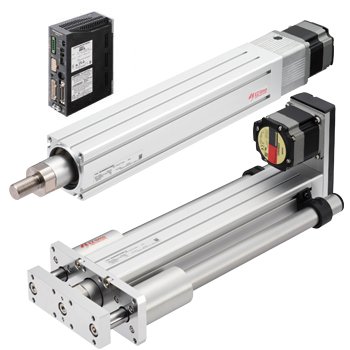 The AlphaStep EAC Series stepper motor linear cylinders are quick and responsive and incorporate a ball screw design, offering high performance from low speed to high speed or with light loads or heavy loads, regardless of demanding operating conditions. Available in a straight type or reversed motor type and with a shaft guide and cover version also available, saves design time and parts.
Available with Pulse Input or Built-in Controller (Network) type driver.

The Built-in Controller reduces the burden on the programmable PLC because the information necessary for motor operation is built into the driver. This simplifies the system configuration for multi-axis control.
Stroke Lengths from 50mm up to 300mm
Available with or without Shaft Guide
Electromagnetic Brake available
AC or DC Input
Repetitive Positioning Accuracy = ±0.02 mm