Support: 1-800-468-3982 Sales: 1-800-448-6935
New AZ Series Drivers Available with DC Input and EtherCAT Communication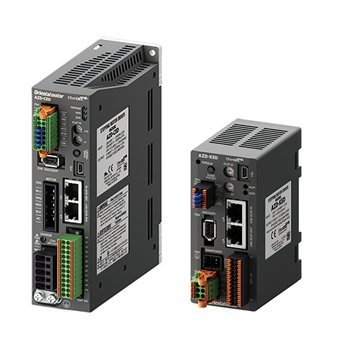 AC/DC Input Drivers with EtherNet/IP and EtherCAT Communications
Torrance, CA – March 10, 2020
Oriental Motor is pleased to announce the latest addition to the AZ Series family of single axis stored data drivers, which now includes AC and DC input. Both input types are available with EtherNet/IP or EtherCAT communication.
EtherNet/IP provides industrial users with the networking protocol needed to utilize standard Ethernet technology (IEEE 802.3 and TCP/IP) for factory automation applications. EtherCAT (Ethernet for Control Automation Technology) uses real-time Ethernet technology for outstanding performance, flexible topology and simple configuration. Both EtherNet/IP and EtherCAT communication protocols enables Industrial Internet of Things connectivity (IIoT) for connected devices.
These new expanded drivers offer additional flexibility to application design and configuration.

They key features of the new AZ Series EtherNet/IP and EtherCAT capable drivers are
Available with AC input (Single-Phase 100-120 VAC or Single / Three-Phase 200-240 VAC) or DC input (24/48 VDC)
Works with all AZ Series motors including linear and rotary actuators, compact actuators and grippers
Dedicated single axis driver with EtherNet/IP or EtherCAT communications
Built-in electromagnetic brake control for individual axis
EDS file for easy set up (specific to each driver)
AOI instruction set for easier program configuration (EtherNet/IP)
Support Software for Parameter Setting (free download)
To learn more about Oriental Motor's new AZ Series drivers, contact the Technical Support group at 800-468-3982 or email, techsupport@orientalmotor.com, or visit the web page at:
https://www.orientalmotor.com/network-products/index.html
###
ABOUT ORIENTAL MOTOR
Since its founding in Japan in 1885, Oriental Motor has been a world leader in motion control systems.  For over a century, we have concentrated on technological advancement and product design improvement — an emphasis evident in the sophisticated devices we market today.
Connect with Oriental Motor: Facebook, LinkedIn, Twitter and YouTube