Support: 1-800-468-3982 Sales: 1-800-448-6935
New DR Series Compact Electric Cylinders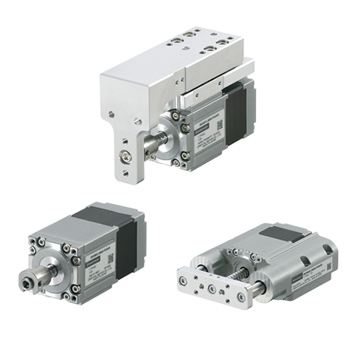 Equipped with 28 mm AZ Series or PKP Series Stepper Motor
Torrance, CA – March 23, 2020
Oriental Motor is pleased to announce the introduction of the DR Series, the latest compact electric cylinder motion control products. The DR Series is available with an AZ Series or 2-phase PKP Series base motor.
The DR Series is a linear motion actuator that incorporates a precision ball screw into a stepper motor, saving space, saving design and saving the number of parts needed for assembly. All this with guaranteed specifications and performance. Being a compact and complete in design, the DR Series is able to reduce the size of the overall machine.
The DR Series AZ Type offers 4 base cylinder types available; table type, wide table type, rod type and guide rod type with 2 precision ball screws (2.5 mm or 1 mm). It is based on αSTEP technology with absolute closed loop control and works with any AZ DC input type driver.
The DR Series PKP Type offers 3 base cylinder types; table type, rod type and guided rod type with a 2.5 mm ball screw. It is based on PKP Series 2-phase motor technology and works with any CVD DC input type driver. Available with rear shaft adjusting knob.

They key features of the new DR Series are
Available with AZ Series or PKP Series base motor
30 mm max stroke length
Optional ball screw cover
Multiple cable output directions based on cylinder type
To learn more about Oriental Motor's new DR Series compact electric cylinders, contact the Technical Support group at 800-468-3982 or email, techsupport@orientalmotor.com, or visit the web page at: https://www.orientalmotor.com/linear-actuators/compact-linear-actuators.html
###
ABOUT ORIENTAL MOTOR
Since its founding in Japan in 1885, Oriental Motor has been a world leader in motion control systems.  For over a century, we have concentrated on technological advancement and product design improvement — an emphasis evident in the sophisticated devices we market today.
Connect with Oriental Motor: Facebook, LinkedIn, Twitter and YouTube