CAD / Manual Search
To locate product CAD and Operator Manuals please search using the product Item Number.
Oriental Motor offers a wide range of motion control products to meet a wide range of applications, select the appropriate application type below.

We're Here to Help
Business Hours - Monday to Friday, 8:30am EST to 5:00pm PST

For English or Espanol:
For Japanese:

U.S.A. Customers:
Sales - 1-800-448-6935
Customer Service - 1-800-418-7903
Tech Support – 1-800-GO-VEXTA (468-3982)
International Customers:
+1-847-871-5931 or
+1-310-715-3303
Support: 1-800-468-3982 Sales: 1-800-448-6935
PKP Series Stepper Motors Expanded Line-up with Mini Connector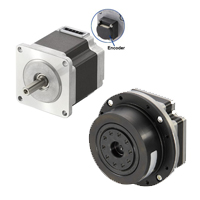 Torrance, CA – ORIENTAL MOTOR USA CORP
New Mini Connector on More Frame Sizes
Oriental Motor is pleased to announce the popular high torque PKP Series stepper motors line-up has been expanded to include additional mini connector type. In addition to a new mini connector, the new PKP Series motors offer new design advancements.
The new mini connector PKP motor type is now available with more frame sizes. This expansion includes additional motor resolution options, line driver encoder options, 400 p/rev options and our new PKP Flat type motor with Harmonic gearheads. For the optimal results, test the new PKP stepper motor with the CVD bipolar driver.
The new mini connector shortens the length of the connector's overhang, thereby further reducing space. The new connector also widens the freedom for the cable outlet direction and orientation because the outlet direction now points upward.
The expanded PKP Series with mini connector now includes PKP Flat type motor, PKP Flat type motor equipped with Harmonic gearhead, 42 mm (1.65 in.) to 56.5 (2.22 in.) mm high resolution type motors with encoder option and 28 mm (1.10 in.) to 42 mm (1.65 in.) motors with encoder option.
Visit our web site to learn more about the PKP Series stepper motors:
http://www.orientalmotor.com/stepper-motors/2-phase-stepper-motors-pkp-series.html