CAD / Manual Search
To locate product CAD and Operator Manuals please search using the product Item Number.
Oriental Motor offers a wide range of motion control products to meet a wide range of applications, select the appropriate application type below.

We're Here to Help
Business Hours - Monday to Friday, 8:30am EST to 5:00pm PST

For English or Espanol:
For Japanese:

U.S.A. Customers:
Sales - 1-800-448-6935
Customer Service - 1-800-418-7903
Tech Support – 1-800-GO-VEXTA (468-3982)
International Customers:
+1-847-871-5931 or
+1-310-715-3303
Support: 1-800-468-3982 Sales: 1-800-448-6935
AZ Series Equipped Rack & Pinion System L Series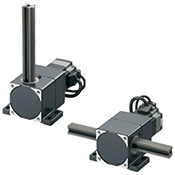 Torrance, CA – June 17, 2019
New L Series Rack & Pinion System Debut with AlphaStep Integration
Oriental Motor is pleased to announce the introduction of the new L Series Rack & Pinion System that is equipped with the popular AlphaStep AZ Series motor with AC input driver.
The L Series replaces the legacy LAS Series and is part of the AlphaStep family of products. The L Series utilizes the absolute mechanical sensor of the AZ Series to reduce or eliminate the dependence of switches and sensors. The new heat treated high strength rack and pinion gears offer a ridged linear motion that is capable of moving a large portable mass vertically or horizontally.
The L Series incorporates a simple designs utilizing a small number of parts, therefore reducing the number of parts used and significantly reduce design and assembly time. It is designed to be a cost effective solution for a compact linear system for horizontal or vertical applications where high accuracy is not a concern.
The new L Series Rack & Pinion System is available with optional rack cover, photo-microsensor sets and optional two output signals.
They key benefits of the new L Series Rack & Pinion System includes
MEXE02 software support
High strength processing on rack and pinion
Compact, space saving
Shorter time between design to start-up
Visit our web site to learn more about the L Series:
https://www.orientalmotor.com/linear-actuators/rack-and-pinion-linear-actuator-l-series-az-motors.html