CAD / Manual Search
To locate product CAD and Operator Manuals please search using the product Item Number.
Oriental Motor offers a wide range of motion control products to meet a wide range of applications, select the appropriate application type below.

We're Here to Help
Business Hours - Monday to Friday, 8:30am EST to 5:00pm PST

For English or Espanol:
For Japanese:

U.S.A. Customers:
Sales - 1-800-448-6935
Customer Service - 1-800-418-7903
Tech Support – 1-800-GO-VEXTA (468-3982)
International Customers:
+1-847-871-5931 or
+1-310-715-3303
Support: 1-800-468-3982 Sales: 1-800-448-6935
BMU / BLE2 Series Available with H1 Grease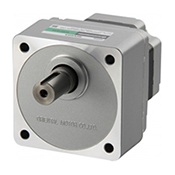 Torrance, CA – June 17, 2019
Food-ready Option for BMU / BLE2 Series Include H1 Grease and IP66 Rated
Oriental Motor is pleased to announce the expanded line-up of the popular BMU and BLE2 Series brushless DC motors with parallel shaft. The new addition to the line-up includes H1 food-grade grease in the gearhead, IP66 rated and a stainless steel output shaft for applications intended for food processing and/or packaging.
The BMU and BLE2 Series are Oriental Motor's simple to use and advanced brushless DC motors. The new H1 grease BMU/BLE2 motor uses the NSF registered H1 foodgrade grease in its gearhead as lubricant and are available in 30 W (1/25 HP), 60 W (1/12 HP) and 120 W (1/6 HP) power output. BMU/BLE2 Series motors lubricated with H1 grease offer IP66 class protection and are equipped with a stainless steel parallel motor shaft.
The NSF registers grease with H1 designation as food-grade lubricants used in food-processing environments where there is the possibility of incidental food contact.
The NSF International is an American based international, third party certification body which provides global services, such as development of standards, product certification, auditing, training and risk management for the public health and environmental sectors.
Visit our web site to learn more about the BMU/BLE2 Series with H1 food-grade grease: https://www.orientalmotor.com/brushless-dc-motors-gear-motors/index.html