CAD / Manual Search
To locate product CAD and Operator Manuals please search using the product Item Number.
Oriental Motor offers a wide range of motion control products to meet a wide range of applications, select the appropriate application type below.

We're Here to Help
Business Hours - Monday to Friday, 8:30am EST to 5:00pm PST

For English or Espanol:
For Japanese:

U.S.A. Customers:
Sales - 1-800-448-6935
Customer Service - 1-800-418-7903
Tech Support – 1-800-GO-VEXTA (468-3982)
International Customers:
+1-847-871-5931 or
+1-310-715-3303
Support: 1-800-468-3982 Sales: 1-800-448-6935
AZ Series AC Input Drivers Now Available With EtherNet/IP™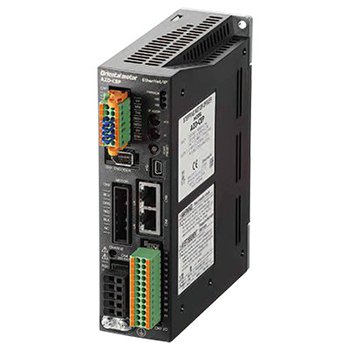 Torrance, CA – August 1, 2019
Now With EtherNet/IP
Oriental Motor is pleased to announce the arrival of EtherNet/IP™ communications protocol to the AZ Series AC input line of stored data network drivers. All of the AZ Series drivers feature remain intact in this new communications driver model and is compatible with all AZ Series family of products.
The AlphaStep AZD (AC Input) Stepper Motor Drivers offers superior high speed performance, high functionality and closed loop control. There are no external sensors to buy as the motor and driver complete the system. With the EtherNet/IP AZ Series driver, the operating data can be sent from the host system or can be set in the driver and selected and executed from a host system. Host system connection and control are performed with I/O Stored Data or EtherNet/IP communications.
Easily control the AZ Series by directly connecting to the EtherNet/IP master device using a single EtherNet/IP communications cable. This allows for quick and simple wiring.
The new features of the latest AZ Series Driver with EtherNet/IP Communication includes
Single-Phase 100-120 VAC or Single/Three-Phase 200-240 VAC
Control methods: I/O Stored Data, EtherNet/IP Communications or Pulse Input
AOI instruction set for easier program configuration
Support Software for Parameter Setting (free download)
For use with AC Input AZ Series Motors
Visit our web site to learn more about the L Series:
https://www.orientalmotor.com/stepper-motors/closed-loop-drivers-az-ac.html