CAD / Manual Search
To locate product CAD and Operator Manuals please search using the product Item Number.
Oriental Motor offers a wide range of motion control products to meet a wide range of applications, select the appropriate application type below.

We're Here to Help
Business Hours - Monday to Friday, 8:30am EST to 5:00pm PST

For English or Espanol:
For Japanese:

U.S.A. Customers:
Sales - 1-800-448-6935
Customer Service - 1-800-418-7903
Tech Support – 1-800-GO-VEXTA (468-3982)
International Customers:
+1-847-871-5931 or
+1-310-715-3303
For Japanese:
1-800-746-6872 or
+1-310-715-3304
Support: 1-800-468-3982 Sales: 1-800-448-6935
New PKP CS Gear and New 28mm High Resolution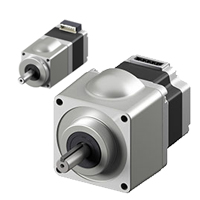 CS Gear Offering Same or More Holding Torque than SH Gear
Torrance, CA – September 16, 2021
Oriental Motor is pleased to announce the expanded line-up of popular PKP Series of bipolar & unipolar type PKP 2 phase stepper motor products with the following additions:
PKP CS Geared 28mm & 60mm
PKP 28mm High Resolution (0.9°) type
The CS Geared type is a center shaft spur gear that features increased torque and a larger shaft for greater radial load but without a larger frame size. The CS Geared type is now available with mini connector and in 3 sizes, 28mm, 42mm and 60mm. Gear ratios: 5, 10, 15 & 20:1 (5:1 is only available on 42mm and 60mm frame sizes).
The High Resolution type (0.9° per step) 28mm reduces noise and vibration. By using a smaller step angle, there is less vibration over the entire speed range. Along with lower noise and vibration, increased positional accuracy is possible with a smaller step angle (0.9°).
The key benefits of the CS Gear type includes
Same or more holding torque than the SH gear
Permissible radial load is greatly increased along with offering a center output shaft, similar to higher cost Planetary Gear types.
Contact our Technical Support group at 800-468-3982 email techsupport@orientalmotor.com, or visit the web page at: https://www.orientalmotor.com/stepper-motors/stepper-motor-only.html
###
ABOUT ORIENTAL MOTOR
Since its founding in Japan in 1885, Oriental Motor has been a world leader in motion control systems.  For over a century, we have concentrated on technological advancement and product design improvement — an emphasis evident in the sophisticated devices we market today.
Connect with Oriental Motor: Facebook, LinkedIn, Twitter and YouTube