CAD / Manual Search
To locate product CAD and Operator Manuals please search using the product Item Number.
Oriental Motor offers a wide range of motion control products to meet a wide range of applications, select the appropriate application type below.

We're Here to Help
Business Hours - Monday to Friday, 8:30am EST to 5:00pm PST

For English or Espanol:
For Japanese:

U.S.A. Customers:
Sales - 1-800-448-6935
Customer Service - 1-800-418-7903
Tech Support – 1-800-GO-VEXTA (468-3982)
International Customers:
+1-847-871-5931 or
+1-310-715-3303
Support: 1-800-468-3982 Sales: 1-800-448-6935
Speed Control DSC Series Now Equipped L Series Linear Head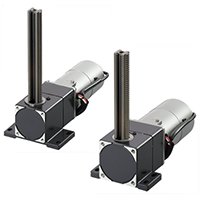 Torrance, CA – ORIENTAL MOTOR USA CORP
New L Series Rack & Pinion System Available for DSC Speed Control Integration
Oriental Motor is pleased to announce the 6W and 25W DSC Series speed control motors are now available with L Series linear head.
 
The new heat treated high strength rack and pinion gears offer a ridged linear motion that is capable of moving a large portable mass vertically or horizontally. The L Series utilizes Oriental Motor's AC motor closed loop feedback technology to ensure the motor operates as set by the DSC speed controller.
Vertical applications are easily possible with the built-in electromagnetic brake and deceleration function in the DSC Series speed controller. Combined with the DSC Series AC speed control motor, the L Series linear head provides an affordable and compact AC motor powered linear motion where high accuracy is not a concern.
Available in 7 rack lengths from 100mm (3.94 in.) to 1,000mm (39.4 in.). Rack speed is adjustable from 10mm (0.39 in.), up to the 45mm (1.77 in.) per second. Optional accessories include shield plate, rack cover, photo-microsensor sets and limit switches.
All motor and speed controller connectors are pre-wired and the speed controller uses a screwless I/O connector, no soldering required.
They key benefits of the new DSC Series L Series linear head includes
High strength processing on rack and pinion
Electromagnetic brake for vertical applications
Adjustable rack speed,  7 rack lengths
Compact, space saving
Visit our web site to learn more about the L Series:
https://www.orientalmotor.com/linear-actuators/rack-and-pinion-linear-actuator-l-series-dsc-motors.html