CAD / Manual Search
To locate product CAD and Operator Manuals please search using the product Item Number.
Oriental Motor offers a wide range of motion control products to meet a wide range of applications, select the appropriate application type below.

We're Here to Help
Business Hours - Monday to Friday, 8:30am EST to 5:00pm PST

For English or Espanol:
For Japanese:

U.S.A. Customers:
Sales - 1-800-448-6935
Customer Service - 1-800-418-7903
Tech Support – 1-800-GO-VEXTA (468-3982)
International Customers:
+1-847-871-5931 or
+1-310-715-3303
Support: 1-800-468-3982 Sales: 1-800-448-6935
Company
>
Press Releases
> AR Series DC Input Type Now Available With Right Angle Hollow Shaft FR Gearhead
AR Series DC Input Type Now Available With Right Angle Hollow Shaft FR Gearhead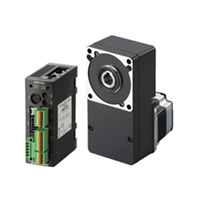 Torrance, CA – ORIENTAL MOTOR USA CORP
Space-saving Right Angle FR Gearhead Comes to AR Series Stepper Motor
Oriental Motor is pleased to introduce the right angle hollow shaft FR gearhead to the DC-input, 90 mm (3.54 in.) AR Series stepper motor.
The key feature of this unique motor and right angle hollow shaft gearhead combination is its ability to perform highly responsive moves at extremely low speed while maintaining high speed stability, and providing high permissible torque. AGV type transportation vehicles which traditionally rely on brushless DC motors coupled with right angle hollow shaft gearhead can benefit from the output combination of this AR Series. This is particularly true when precise control of each wheel is a necessity.
Available with DC input power, 90 mm AR Series motor frame size. Driver and cables available separately. Please contact Oriental Motor for more information regarding this new product.
They key features of the AR Series stepper motor with right angle FR gearhead includes
4 gear ratios: 10:1, 20:1, 30:1 and 50:1
Standard or electromagnetic type
Compact, space saving hollow shaft FR gear type
Maximum instantaneous torque for starting and stopping
Compact, space saving
Contact us at 1-800-468-3982 or sales@orientalmotor.com to learn more about this product.
###
ABOUT ORIENTAL MOTOR
Since its founding in Japan in 1885, Oriental Motor has been a world leader in motion control systems.  For over a century, we have concentrated on technological advancement and product design improvement — an emphasis evident in the sophisticated devices we market today.
Connect with Oriental Motor: Facebook, LinkedIn, Twitter and YouTube