Support: 1-800-468-3982 Sales: 1-800-448-6935
PKP Series Stepper Motors and CVD Drivers Now Available in 5-Phase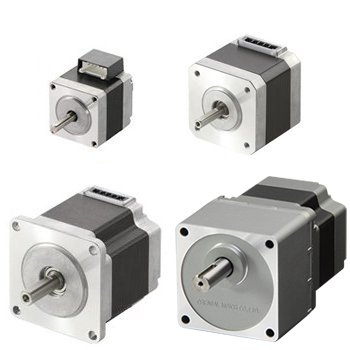 Oriental Motor is pleased to announce our new 5-phase PKP5 stepper motors. These PKP5 motors are the latest addition to the PKP Series, our best in-class and industry leading stepper motors product line. To accommodate the wider range of the new PKP5 motors, the new CVD 5-phase microstepping 24 VDC drivers is also introduced to the market. The new CVD 5-phase driver, alongside with the PKP5 motors, offers the most advance performance characteristics available and are suited for advanced applications.
The PKP5 motors are now available in 2.22 in (56.4 mm) mounting frame (NEMA 23) with a ¼" output shaft. Our new DC-input PKP5 motors are available in 1.10 in (28 mm), 1.65 in (42 mm) and 2.22 in (56.4 mm) frame size, which allows for plug-and-play direct upgrading from 2-phase to 5-phase without significant alteration to existing designs. New PKP5 motors are available with our new mini connector. Encoder option is available on 1.65 (42 mm), 2.22 (56.4 mm) and 2.36 (60 mm) frame size.
The CVD 5-phase stepper motor driver offers a wider ampere output range, superior performance and value and is ideal for OEM or single axis machines. Key features of the new CVD 5-phase driver includes lowest vibration and noise with advanced microstepping control, significant positional accuracy improvement with microstepping, space saving FETs, selectable step angle and microstepping filter control and alarm output. It is available in two mounting types: with a mounting plate or without. These new 5-phase drivers are the same form and fit as the CVD 2-phase drivers, allowing for interchangeable mounting and wiring.
Visit our web site to learn more about the PKP5 motor line up:
http://www.orientalmotor.com/stepper-motors/5-phase-stepper-motors-pkp-series.html
ABOUT ORIENTAL MOTOR
Since its founding in Japan in 1885, Oriental Motor has been a world leader in motion systems.  For over a century we have concentrated on technological advancement and product design improvement—an emphasis evident in the sophisticated devices we market today. Oriental Motor's sales and service network is international, with offices throughout North America, Europe and Asia.  Domestically, ORIENTAL MOTOR U.S.A. CORP. was established in 1978.
For more information:
Technical Support, 800-468-3982, techsupport@orientalmotor.com