CAD / Manual Search
To locate product CAD and Operator Manuals please search using the product Item Number.
Oriental Motor offers a wide range of motion control products to meet a wide range of applications, select the appropriate application type below.

We're Here to Help
Business Hours - Monday to Friday, 8:30am EST to 5:00pm PST

For English or Espanol:
For Japanese:

U.S.A. Customers:
Sales - 1-800-448-6935
Customer Service - 1-800-418-7903
Tech Support – 1-800-GO-VEXTA (468-3982)
International Customers:
+1-847-871-5931 or
+1-310-715-3303
Support: 1-800-468-3982 Sales: 1-800-448-6935
July 1, 2016 – Oriental Motor Introduces New 1 HP ~ 3 HP ie3 geared motors from Brother Gearmotors with Redesigned "W Type" Terminal Box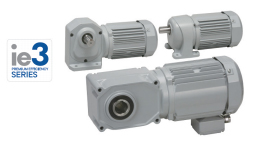 Torrance, CA – ORIENTAL MOTOR USA CORP

New "W Type" Terminal Box Now Includes Internal Connection
Brother Gearmotors has upgraded the terminal box on all of their 1 HP up to 3 HP ie3 Premium Efficiency Series geared motors (208/230/480 VAC).
The new terminal box now includes an internal terminal connection. This change requires a redesigned terminal box which replaces the existing E Type terminal box style and part numbers, which are no longer available.
Old part number reference: G3K28N5-MV6AEN
New part number reference: G3K28N5-MV6AWN
The new "W Type" terminal box is slightly wider and taller and includes an internal terminal block that allows for easy wiring and connection. The terminal box is fixed position and direction and is no longer adjustable.
The Brother Gearmotors 1 HP ~ 3 HP ie3 Premium Efficiency Series Key Features are:
Energy efficient and lower operating cost.
Less noise: Motor runs quieter
Heat reduction: Motor runs cooler
Long term return on investment
Visit our web site to learn more about 1 HP ~ 3 HP geared motors by Brother Gearmotors.
ABOUT ORIENTAL MOTOR 
Since its founding in Japan in 1885, Oriental Motor has been a world leader in motion systems. For over a century we have concentrated on technological advancement and product design improvement — an emphasis evident in the sophisticated devices we market today. Oriental Motor's sales and service network is international, with offices throughout North America, Europe and Asia. Domestically, ORIENTAL MOTOR U.S.A. CORP. was established in 1978.
For more information:
Technical Support, 1-800-468-3982
Stay Informed
Brother Three-Phase Gear Motors