Support: 1-800-468-3982 Sales: 1-800-448-6935
August 24, 2017 - Oriental Motor Introduces BLE2 Series Brushless Motor & Driver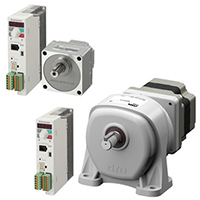 Torrance, CA – ORIENTAL MOTOR USA CORP
The Brushless Motor Advantage Now With a Wider Range of Gear Types
Oriental Motor is pleased to announce the introduction of our BLE2 Series Brushless Motor & Driver, a high performing and energy efficient brushless motor and driver speed control system.
The BLE2 Series replaces our popular BLE Series and continues our brushless motor advantages by featuring an all new compact, high-power and high-efficiency brushless DC motor combined with a Driver that can be digitally set and controlled via external DC voltage or by the front panel.
The BLE2 Series can easily compete with larger 3-phase inverter driven motors in many more applications, with built-in simple holding torque function, saving space and increasing performance thanks to the advantages of a brushless motor design. The BLE2 Series has a maximum speed of 4000 r/min, achieving a speed ratio of 1:50 (80 to 4000 r/min). The new motor structure is small than previous models and enables high power and high efficiency while incorporating easy setting, installation and wiring. The new motor connector offers IP66 degree of protection and allows for easy and direct connection between motor and driver with two available orientation of cable outlet direction. Standardized use of stainless steel shaft provides excellent rust prevention and corrosion resistance.
Round Shaft and Combination-type Parallel Shaft or Right-Angle Hollow Shaft Geared models are available in IP66 rated versions. Featuring 30 W (1/25 HP), 60 W (1/12 HP), 120 W (1/6 HP) and, 200 W (1/4 HP) output power models.
The BLE2 Series' key features are:
Speed Control Range: 80 ~ 4000 r/min
Advanced Performance and Features with Easy to Use Controls
Torque Control is Possible
IP66 Type with Industrial Connector
Parallel Shaft, Right-Angle Hollow Shaft Gear or Round Shaft (no Gear)
Imperial or Metric Shafts Available
ABOUT ORIENTAL MOTOR 
Since its founding in Japan in 1885, Oriental Motor has been a world leader in motion systems. For over a century we have concentrated on technological advancement and product design improvement — an emphasis evident in the sophisticated devices we market today. Oriental Motor's sales and service network is international, with offices throughout North America, Europe and Asia. Domestically, ORIENTAL MOTOR U.S.A. CORP. was established in 1978.
For more information:
Technical Support, 1-800-468-3982
Brushless DC Motors
Stay Informed