Support: 1-800-468-3982 Sales: 1-800-448-6935
Speed Controler for Rack and Pinion Systems - DSC Series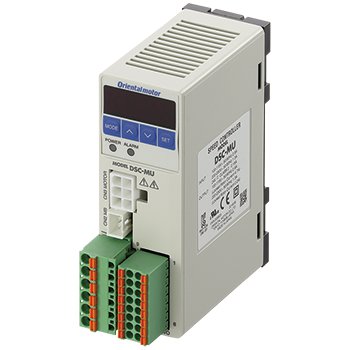 Speed Controler for Rack and Pinion Systems - DSC Series
Unique to Oriental Motor, the DSC Series offers closed loop control. The display and digital setting features are built into this compact driver.
Compact and Cost Effective
Advanced Controller with simple data input and digital indicator built in
Easy to control, digitally or manually, up to 20 units from one control method
Closed loop system for reliable performance and CPU controlled for improved speed regulation
Single-Phase 100-120 or 200-240 VAC
Capacitor included
High Reliability
Low Noise Gives Peace of Mind and System Configuration is Simple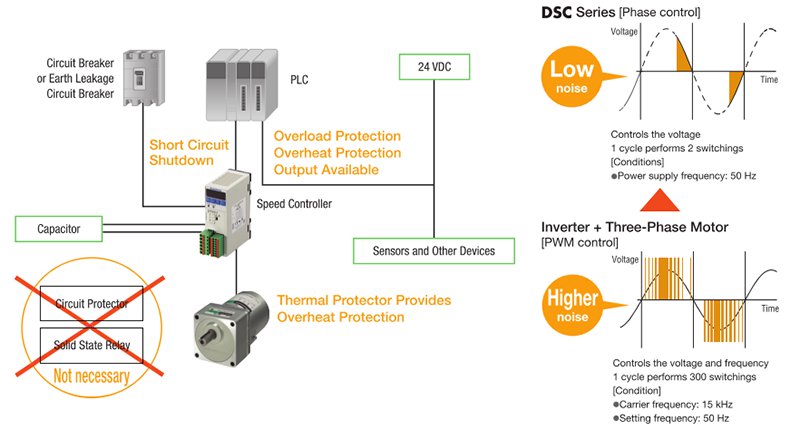 Alarm Output Increases Reliability
Thanks to the closed loop control, feedback on the motor status is provided to the controller in real-time. An alarm signal is output when an abnormality, such as motor lock due to overload, occurs and the supply of power to the motor is stopped.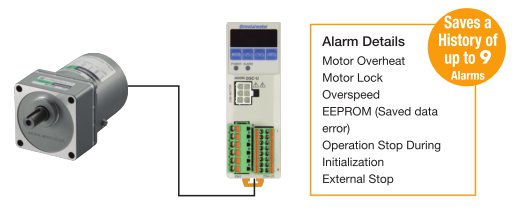 Continuous Duty Range
Continuous operation is possible in this region within the specification rating.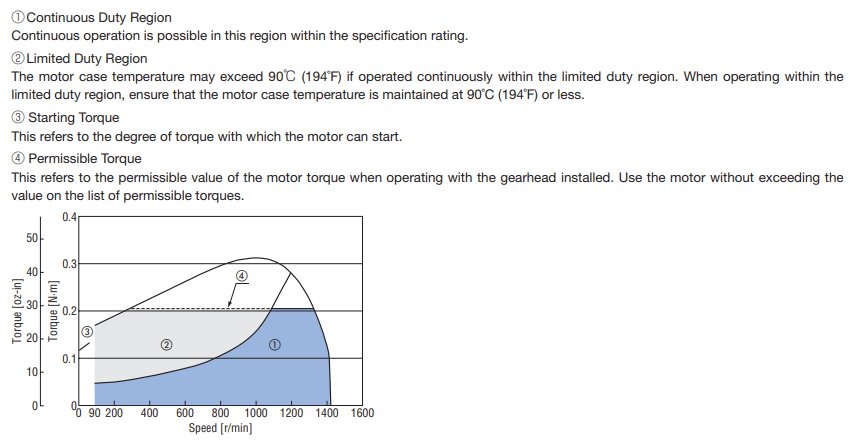 Advanced Performance, Simple Control
Speed and Other Settings are Shown and can be Entered Directly

Closed Loop Control
With a built-in tachogenerator on the back of Oriental Motor's Speed Control motors, the output speed of the AC motor is supplied to the Controller ensuring accurate speed control along with alarm warnings if any abnormalities occur.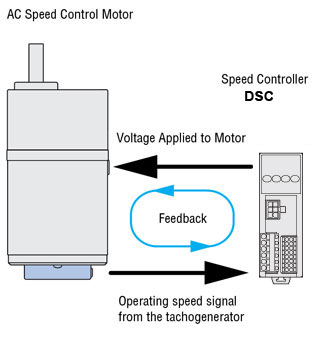 Speed Regulation (Load) is Improved
By making the control circuit CPU-controlled, the speed regulation (load) has improved. It is possible to make the deviation for the speed command and speed detection values almost 0, and the speed regulation has been improved from -5% to ±1%*. *Permissible torque when at 1000 r/min.
Parallel Motor Operation (20 Units Max.)
A single external speed potentiometer can operate a maximum of 20 units in parallel. Fine adjustment of each motor's speed can be performed by changing the controller's parameters.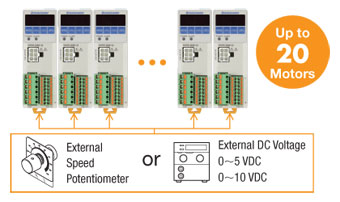 Speed Control (4 speeds)
4 units of operating data can be set, and can be switched with I/O during operation.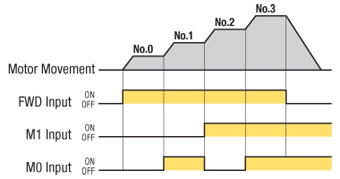 Acceleration/Deceleration
Makes the motor movement at start/stop smoother. It is possible to set acceleration/deceleration differently for each of the 4-speed data units.

Bi-Directional Operation
Performs the operation according to the command for rotation direction.

Instantaneous Bi-Directional Operation
Instantaneously switches the rotation direction of the motor while operating. (Short cycle change conditions can be created)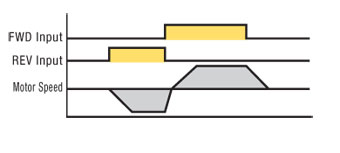 Speed Range Control
It is possible to limit the speed setting in advance with speed range.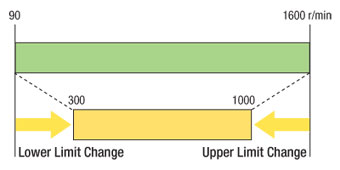 Instantaneous Stop
Stops the operating motor instantaneously. (Short cycle run/stop conditions can be created)

Compact, Easy Installation
Compact
The controller volume is 63% smaller than a general inverter.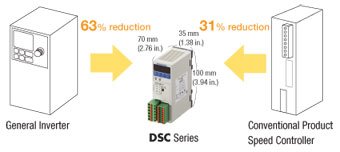 Side-by-Side Installation Saves Space
The body width is 1.38 in. (35 mm) and even when using multiple speed controllers, the installation is compact because they can be installed side by side.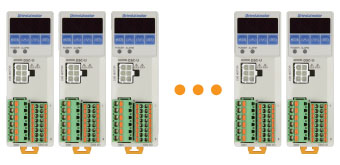 Slim Body Control Box
The speed controller depth is 3.54 in. (90 mm). It can be installed in slim body control cabinets.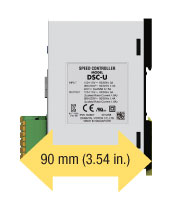 Easy DIN Rail Installation
The speed controller can be installed directly on the DIN rail.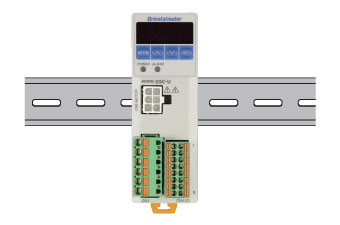 Connecting the Motor and Driver is Easy using a Connector
Wiring the speed controller and motor together uses a connector, so installation and removal are easy.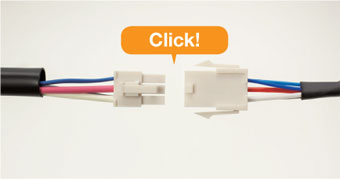 Screwless I/O Wiring Requires No Crimping or Screwing
No need for soldering or crimping tools, and no torque management for screws is necessary. This reduces wiring time and maintenance.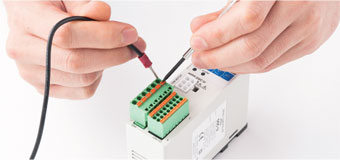 External Speed Potentiometer

Sets and adjusts the motor's speed.
(20 kΩ, 1/4 W and with a linear resistance vs. angle curve)
Potentiometer Mounting Plate

DIN rail mounting bracket for the external speed potentiometer.
General Purpose I/O Cables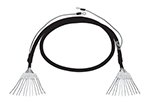 It is a general-purpose multi-core cable convenient for connection between the driver and host controller.
| | |
| --- | --- |
| Item | Length |
| | 1.6 ft. (0.5 m) |
| | 3.3 ft. (1 m) |
| | 4.9 ft. (1.5 m) |
| | 6.6 ft. (2 m) |
Capacitor Mounting Bracket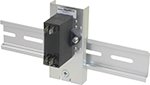 This capacitor mounting plate allows you to attach an AC motor or Fan motor's capacitor on a DIN rail. You can attach or detach in on a DIN rail with a one screw. There is no need for a separate end plate or additional components.
Capacitor Connector Lead Wires (5 Sets)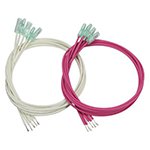 Lead wire set for AC motor capacitors.
5 sets 1 part number = 5 sets (10 lead wires).  5 White / 5 Red
Be sure to use capacitor cover
System Configuration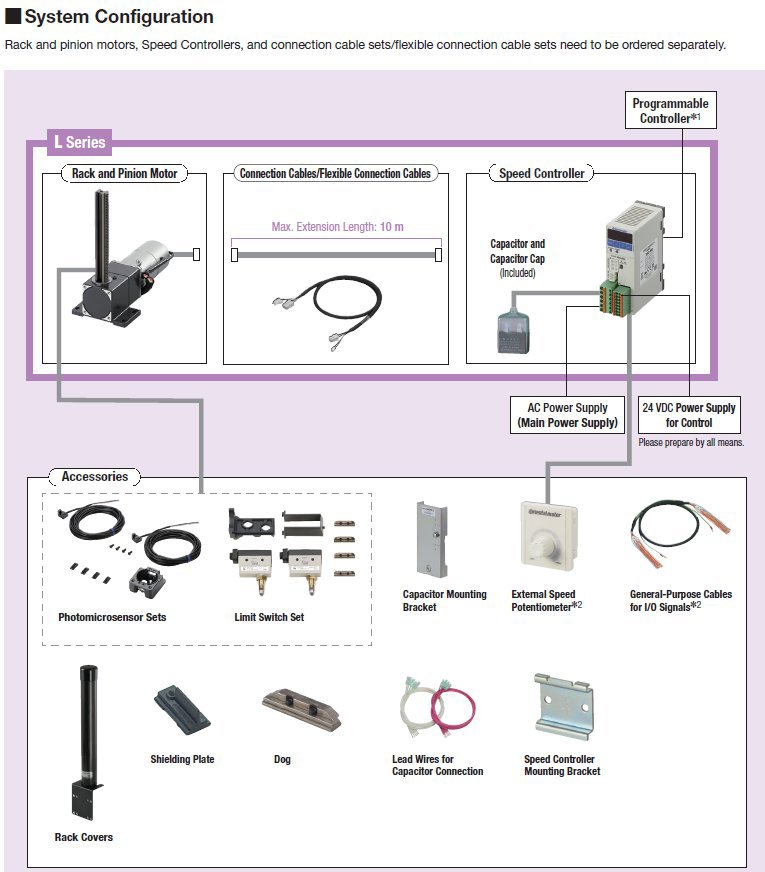 CAD / Manual Search
To locate product CAD and Operator Manuals please search using the product Item Number.
Rack and Pinion Systems
Brushless DC Motors