Support: 1-800-468-3982 Sales: 1-800-448-6935
RKII Series 5-Phase Stepper Motors (AC Input)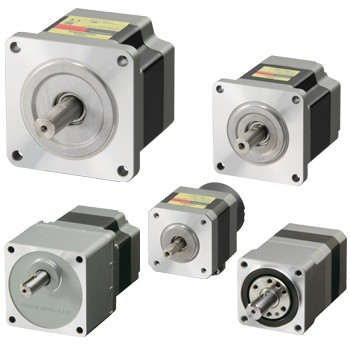 RKII Series 5-Phase Stepper Motors (AC Input)
The RKII series stepper motors are designed to provide high performance and energy savings. To achieve constant maximum torque output with lower heat generation and save energy, the motor losses have been substantially reduced allowing them to be operated for longer hours at high speed which is not possible with conventional stepper motors.  For use with RKII Series AC Input Drivers.
High-Efficiency Stepper Motors
0.72° (500 pulse/rev)
Parallel Shaft and Right Angle Geared Types for Higher Torque, Space Savings
New Pentagon Winding
Encoder and Electromagnetic Brake Types
5-Phase RKII Series Stepper Motor Drivers Required*
Stepper Motor Lineup
Frame Size

Motor Types

Available Options

Current per Phase

Lead Wires

Max. Holding Torque

Standard Type (0.72°)

Encoder
Electromagnetic Brake

0.35 A

5

19.8 ~ 38 oz-in

0.14 ~ 027 N·m

Geared Type

Electromagnetic Brake

70.4 ~ 704 oz-in

0.5 ~ 5 N·m

Standard Type (0.72°)

Encoder
Electromagnetic Brake

0.75 A

5

73 ~ 250 oz-in

0.52 ~ 1.77 N·m

Geared Type

Electromagnetic Brake

254.4 ~ 1408 oz-in

1.8 ~ 10 N·m

Standard Type (0.72°)

Encoder
Electromagnetic Brake

0.75 A

5

290 ~ 890 oz-in

2.1 ~ 6.3 N·m

Geared Type

Electromagnetic Brake

848 ~ 7360 oz-in

6 ~52 N·m
* Geared Stepper Motor frame size.
High-Torque Type Stepper Motors (0.72°)
1.65 in. (42 mm)
2.36 in. (60 mm)
3.35 in. (85 mm)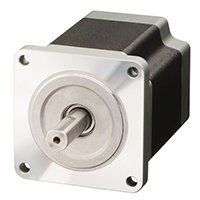 Lower Heat Generation
By utilizing high-efficiency technology to reduce the stepper motor heat, reduced motor running temperatures are possible. In addition, reduction of heat output means less reliance on cooling fans and heat sinks.

High Efficiency
With conventional stepper motors in applications where heat generation had to be suppressed, the running current had to be reduced, which also reduces torque. With the RKII Series, thanks to its low heat generation and highly efficient motors, the motor torque can be used fully to maximize performance.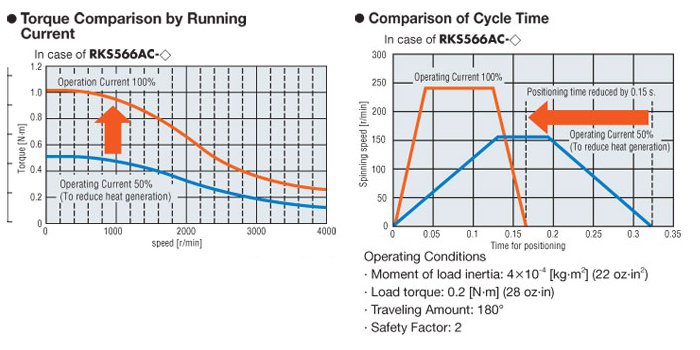 High Torque
The RKII Series stepper motor is compact and produces high torque. The torque of the 1.65 in. (42 mm) frame size has increased 50%. This contributes to increased performance and faster move times. The series includes 2.36 in. (60 mm) and 3.35 in. (85 mm) frame sizes to cover a wide torque range.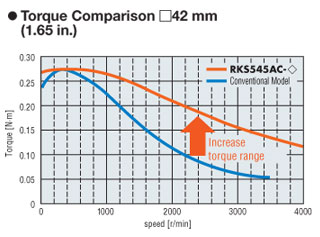 Low Vibration
Utilizing a full-time microstepping driver controlled by a digital system improves the vibration characteristics of the 0.72° stepper motor. Current control is also done by a high specification digital CPU. This model uses PWM control instead of PAM control resulting in a sinusoidal wave form in each phase, significantly reducing vibration.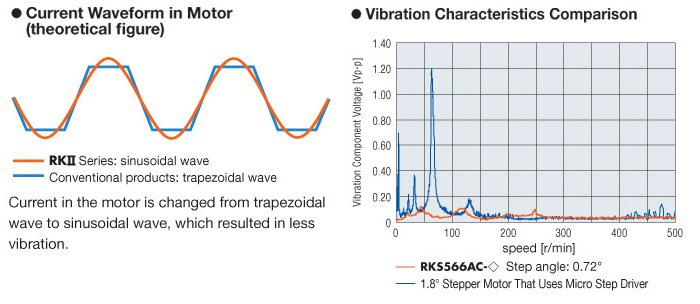 High Accuracy
Positioning accuracy of the RKII Series is ±0.05° (±3 arc min). When the RKII Series is used with a ball screw as shown below, the stopping accuracy becomes ±0.000055 in. (±0.0014 mm). The accuracy of the normal ground ball screw is ±0.00039 in. (±0.01 mm), thus the accuracy is high enough for positioning operation.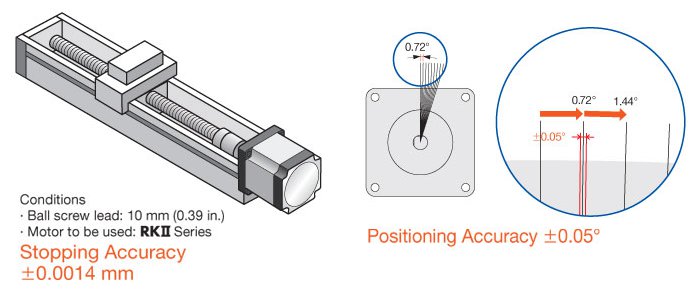 Reduced Power Consumption
By optimizing the stepper motor material, up to 47% of the power consumption has been reduced. This results in the reduced consumption of electricity and CO2 emission.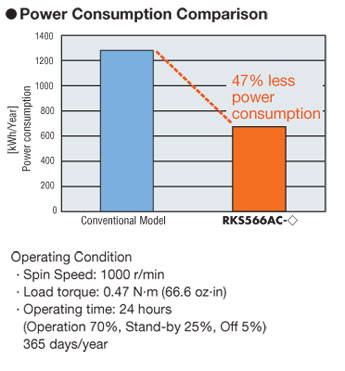 Easy Wiring
The motor connector can be connected easily by using a dedicated cable. This will reduce wiring time, maintenance and prevent mis-wiring.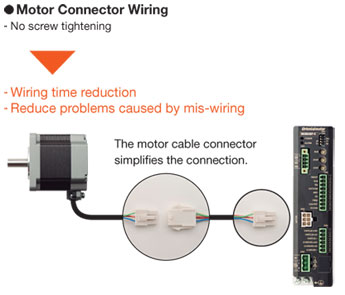 Utilizing Hybrid Stepper Motor Technology
A hybrid stepper motor is a combination of the variable reluctance and permanent magnet type motors. The rotor of a hybrid stepper motor is axially magnetized like a permanent magnet stepper motor, and the stator is electromagnetically energized like a variable reluctance stepper motor. Both the stator and rotor are multi-toothed.
A hybrid stepper motor has an axially magnetized rotor, meaning one end is magnetized as a north pole, and the other end a south pole. Toothed rotor cups are placed on each end of the magnet, and the cups are offset by half of a tooth pitch.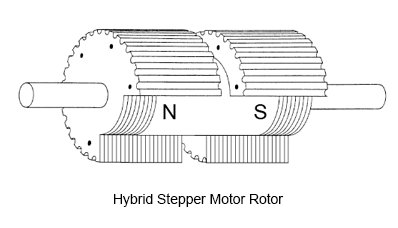 Taper Hobbed Gear Stepper Motors (TS)
1.65 in. (42 mm)
2.36 in. (60 mm)
3.54 in. (90 mm)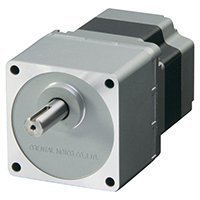 High Speed, Low Backlash Gears
This geared type is made with a simple spur gear design. The torque and speed have been improved.
Because of its high accuracy, this type has the same level of accuracy when compared to our tapered (TH) type without the added cost of tapering.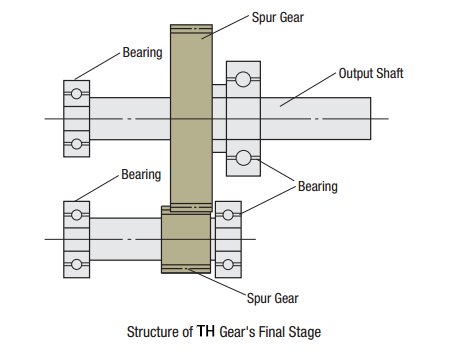 Torque and Speed are Improved (compared to conventional model types)
The TS geared type realizes the improvement of permissible torque and at the same time, it can exert its maximum torque. The rated input speed is increased to 3000 r/min and the permissible speed range of the output shaft has been significantly increased as well. The geared stepper motor allows for higher torque and shortens the time for positioning, because the maximum torque range can be used for acceleration / deceleration.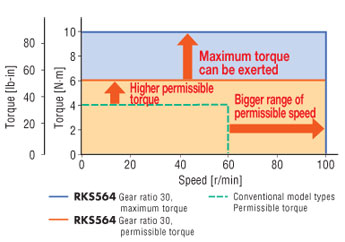 Planetary Gear Stepper Motors (PS)
1.65 in. (42 mm)
2.36 in. (60 mm)
3.54 in. (90 mm)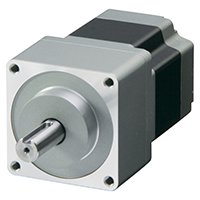 High Permissible Torque, Low Backlash Gears
The PS gear mechanism is comprised primarily of a sun gear, planetary gears and an internal tooth gear. The planetary gears design allow for higher output torque.
There are gears inside used to distribute torque, which allows for higher torque than a spur gear design. The PS gear uses a higher accuracy gear design which provides for a lower backlash when compared to a spur gear design.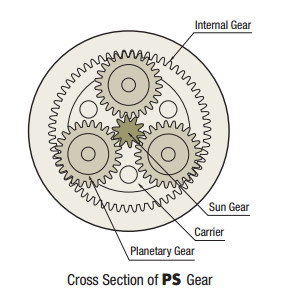 Reduced Backlash (compared with conventional model types)
Optimal design of gears reduced backlash (Except for 1.65 in. (42 mm) frame size.
Positioning with higher accuracy is possible.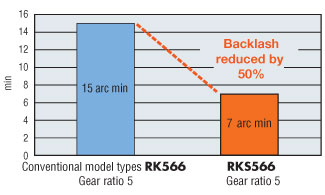 Right-Angle Face / Spur Gear (FC)
1.65 in. (42 mm)
2.36 in. (60 mm)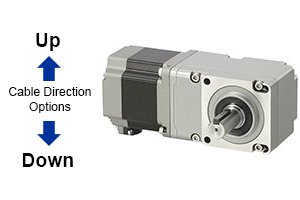 The right-angle FC geared type is a compact orthogonal shaft geared motor made up of a disc-shaped gear (face gear) meshing with a spur gear. By combining it with an RKII series motor, high precision, high strength and space savings is possible at an affordable price.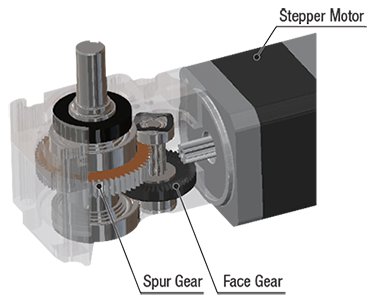 Harmonic Gear Stepper Motors (HS)
1.65 in. (42 mm)
2.36 in. (60 mm)
3.54 in. (90 mm)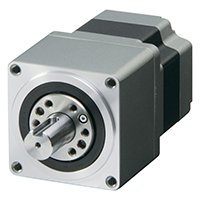 High Accuracy, Non-Backlash Performance Gears
The mechanical life, permissible torque and maximum torque are improved (compared with conventional models).
Improved Rate Life (Twice the length of conventional models)
The rate life has been increased from 5,000 hours (conventional model) to 10,000 hours.
[Except for 1.65 in. (42 mm) frame size]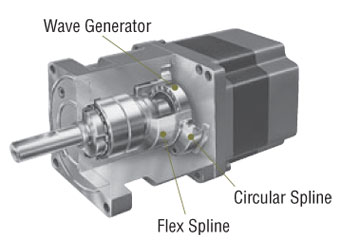 High Torque
With more permissible and maximum torque available, more load can be handled with the same size geared stepper motor.

Surface Installation of Load is Available
This type permits installation of load directly on the rotating surface integrated with the shaft 
[Except for 3.54 in. (90 mm) frame size]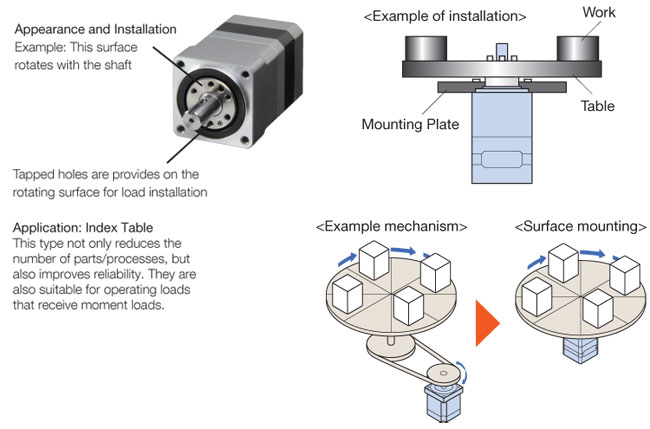 Advantages of Geared Motors
Using geared stepper motors provides many advantages, such as speed reduction, high torque and high resolution.
The Motor Can Drive a Large Inertial Load
If compared with a standard stepper motor, the geared stepper motors can drive larger inertial loads because its permissible load moment of inertia increases with the square of the reduction ratio. This means that larger inertial loads can be driven with geared stepper motors.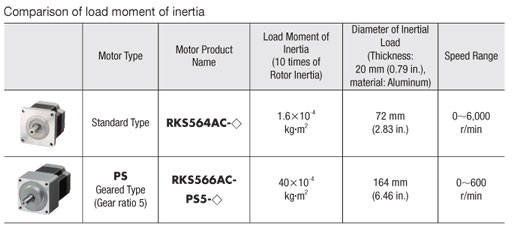 Improved Damping Characteristic at Start and Stop
If the inertial load is large or acceleration / deceleration time is short, a geared stepper motor can reduce damping more effectively and thereby ensure more stable driving compared to a standard stepper motor. Geared stepper motors are ideal for applications where large inertia such as an index table or arm must be driven to perform quick positioning.

High Rigidity, Resistant to Torsional Force
Geared stepper motors have high rigidity and are therefore resistant to torsional force. Therefore compare to standard stepper motors, geared stepper motors are less subject to load torque fluctuation. This means that stability and high positioning accuracy can be ensured even when the load size changes.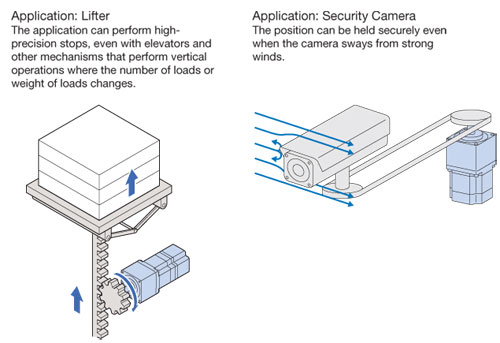 Downsizing
If comparing the standard stepper motor and the geared stepper motor which have similar holding torque, the setting angle of the geared stepper motor is smaller than the standard stepper motor. Geared stepper motors are effective when the equipment must be kept small and light.

Encoder Options*
1.65 in. (42 mm)
2.36 in. (60 mm)
3.35 in. (85 mm)
3-Channel Encoders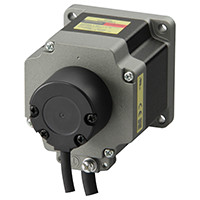 Use the Index signal for the return-to-home operation. By using the Index signal, the return-to-home point will be detected with higher accuracy than single use of the return-to-home sensor. The index channel is an optional output channel which provides one pulse per revolution.
Line Driver Output Type
The Line Driver output offers excellent noise resistance because of the differential output and is capable of longer wiring distance compared to the voltage output.
Detecting for Errors
An incremental encoder works by providing an A and B pulse output. The counting is done through external electronics. Here, the encoder counter is compared to the commanded position counter (third party electronics). The point where the counting begins depends on the counter in the external electronics and not on the position of the encoder.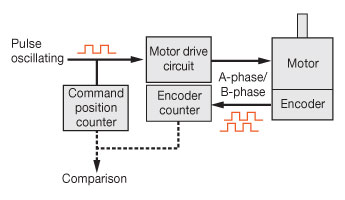 *Requires Built-In Controller (Network) type driver.

Electromagnetic Brake Option
1.65 in. (42 mm)
2.36 in. (60 mm)
3.35 in. (85 mm) / 3.54 (90 mm)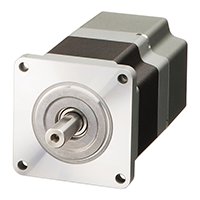 These products have built-in power-off activated electromagnetic brakes. When power is accidentally cut off due to a blackout or other unexpected events, the electromagnetic brake holds the load in position to prevent it from dropping or moving. Also, when the motor is at standstill, it is held by the electromagnetic brake. It is possible to suppress the heat generated from the motor by turning off the motor current.
RKII Series 5-Phase Drivers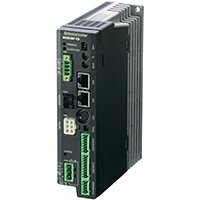 The RKII Series driver is a high performance, energy saving stepper motor driver with a great low price. To achieve constant maximum torque output with low heat generation and save energy, the stepper motor and driver losses have been substantially reduced allowing to be operated for longer hours at high speed, which is not possible with conventional stepper motors and drivers. With simple wiring featuring screw-less connectors and side by side driver mounting, installation is easy and saves space.
High Efficiency, Microstepping Driver
Stored Data (Network Compatible) Type or Pulse Input Type (use step angle switch to accept 1.8° pulse signals)
Built-in Protective Functions
Single-Phase 100-120 or Single-Phase 200-240 VAC
SCX11 Universal Controller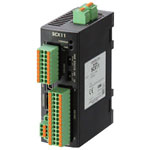 The SCX11 is a highly-functional and sophisticated controller equipped with program editing and execution functions. Use the SCX11 as a stored program controller to connect to any of Oriental Motor's standard pulse input drivers. The SCX11 is also able to control the motor via serial communications such as USB, RS-232C and CANopen.
Network Gateways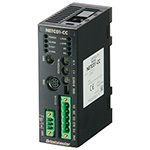 The communication protocol of the master controller, Factory Automation (FA) network, is converted to Oriental Motor's own RS-485 communication protocol. Connection to Oriental Motor's network compatible products is completed with one RS-485 communication cable.
Compatible Networks:
CC-Link, MECHATROLINK-II, MECHATROLINK-III, EtherCat



Cables

These cables are used to connect or extend the distance between the motor and driver.
Required (sold separately).
Use a flexible motor cable if the motor is installed on a moving part or its cable will be flexed.
Flexible Couplings

This three-piece coupling adopts an aluminum alloy hub and a resin spider. The simple construction ensures that the high torque generated by a gear motor can be transmitted reliably. The proper elasticity of the spider suppresses motor vibration.
Mounting Brackets

Mounting brackets are convenient for installation and securing a stepper motor or geared stepper motor.
Clean Dampers

Mechanical dampers suppress stepper motor vibration and improve high-speed performance. An inertia body and silicon gel are hermetically sealed in a plastic case.
(For use with Double Shaft motors)
System Configuration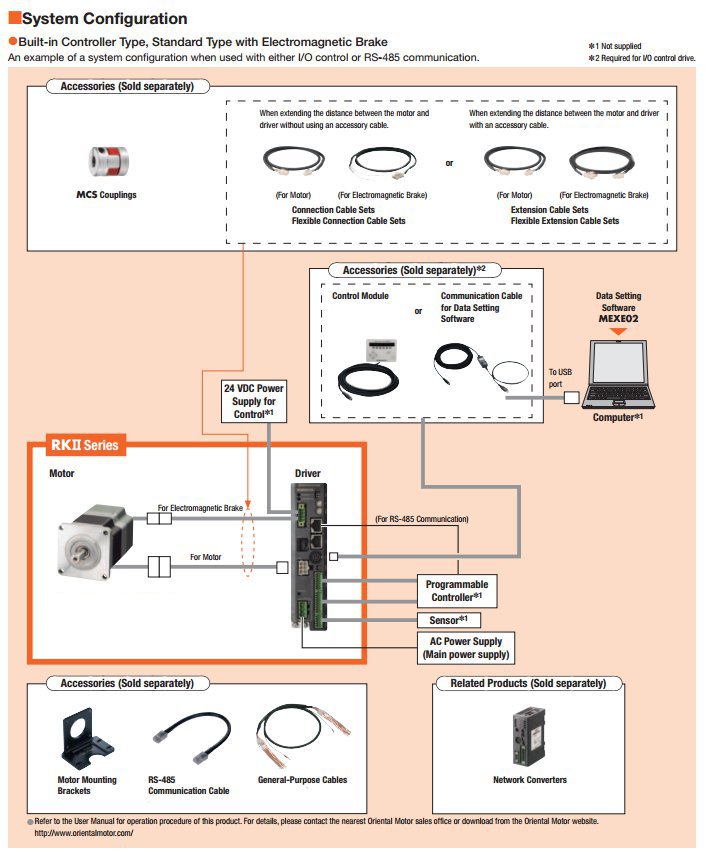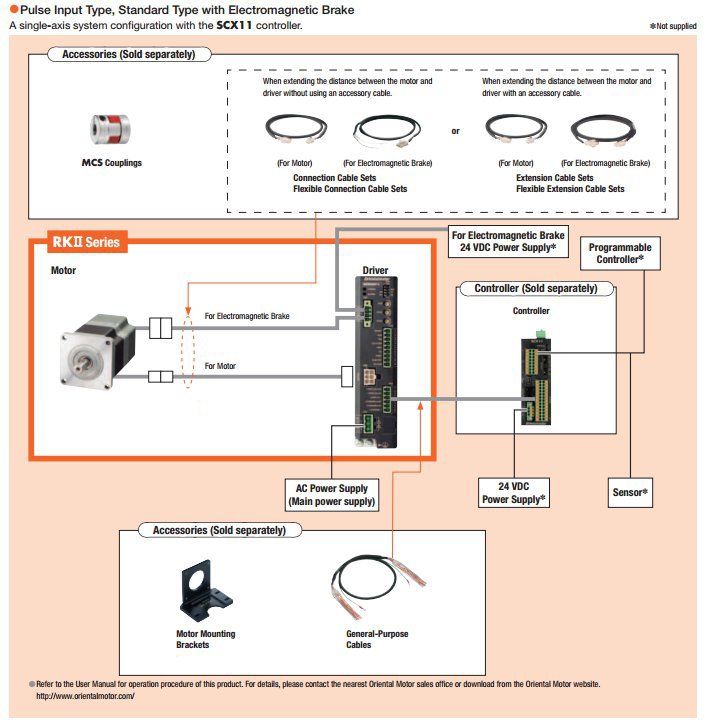 CAD / Manual Search
To locate product CAD and Operator Manuals please search using the product Item Number.
Downloads
Videos
Technical Articles
Reference
Videos
5-Phase Stepper Motor Drivers*
Linear Actuators
Rotary Actuators