Support: 1-800-468-3982 Sales: 1-800-448-6935
SMK Series Low Speed Synchronous Motors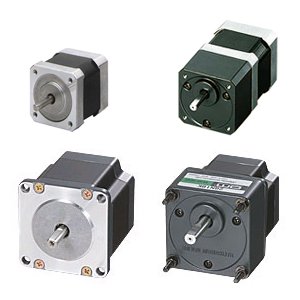 SMK Series Low Speed Synchronous Motors
Low-speed synchronous motors provide highly precise speed regulation, low-speed rotation and quick bi-directional rotation. The basic construction of low-speed synchronous motors is the same as that of stepper motors. Since they can be driven by an AC power supply, they are sometimes called AC stepper motors.
Parallel Shaft Gear or Round Shaft (no Gear)
Single-Phase 115 VAC
Low-Speed Synchronous Motor Lineup
Frame Size

Gear Type

Power Supply

Holding Torque

Motor Speed

Parallel Shaft Gear

Single-Phase 115 VAC

1.32 ~ 4.9 lb-in

0.15 ~ 0.56 N·m

72 r/min (60 Hz)
60 r/min (50 Hz)*

Round Shaft (no Gear)

0.63 ~ 1.27 oz-in

4.5 ~ 9 mN·m

Parallel Shaft Gear

Single-Phase 115 VAC

3.5 ~ 26 lb-in

0.4 ~ 3 N·m

Round Shaft (no Gear)

3.5 oz-in

25 mN·m

Parallel Shaft Gear

Single-Phase 115 VAC

12.3 ~ 88 lb-in

1.4 ~ 10 N·m

Round Shaft (no Gear)

5.1 ~ 12.6 oz-in

36 ~ 89 mN·m
*Motor Speed for SMK014MA-A is 36 r/min (60 Hz) and 30 r/min (50 Hz)
Low Speed Synchronous Motors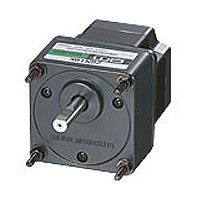 Low-Speed Synchronous Rotation
The motor rotates at a speed proportional to and accurately synchronized with the frequency of the power supply. A fluctuation in load does not affect the rotation speed.
At 50 Hz 60 r/min (30 r/min for SMK014MA-*)
At 60 Hz 72 r/min (36 r/min for SMK014MA-*)
Precise Positioning
The motor can be stopped instantly by turning off the power supply. The stopping accuracy within the motor's permissible load inertia is ±10°.
Continuous Rated Capacitor-Run Motor
This is a capacitor-run motor that can be driven by a capacitor only. (An external resistance is needed for SMK5 type). This can be driven at a continuous rating even when bi-directional operation is required.

Superb Starting, Stopping, and Reversing Characteristics
If operated within the permissible load inertia, the motor can start, stop and reverse with 1.5 cycles (0.03 sec at 50 HZ, 0.025 sec at 60 Hz) of the power supply frequency.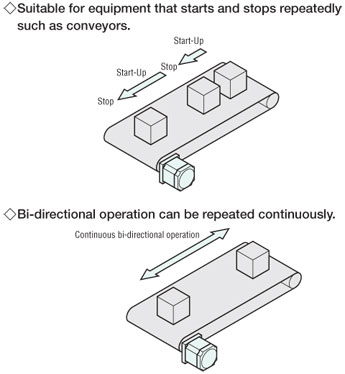 Vertical Applications
Constant speed can be maintained even during lowering operations. Low-speed synchronous motors are suitable for applications where vertical operation at a constant speed is required.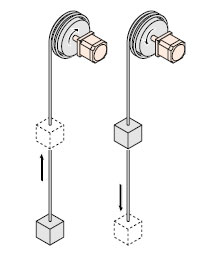 Holding Torque
Since a permanent-magnet, multi-poled rotor is used, the motor has holding torque even when the motor is not energized. When used with a gearhead, comparatively high holding torque can be utilized. (When a larger holding torque is required, a DC power supply can be connected as soon as the AC power supply is cut off.)
Long Life, Low Noise GN-S Gearhead Available
The new "long life, low noise GN-S gearhead" achieves a long rated life of 10,000 hours, twice the level of a conventional gearhead, by adopting innovative technologies and structure. Parallel Shaft models.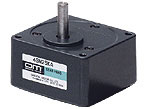 Flexible Couplings

These products are clamp type couplings used to connect a motor or gearhead shaft to the shaft of the equipment.
CR Circuit for Surge Suppression

This product is used to protect the contacts of a relay or switch used in the forward/reverse circuit section or the instantaneous stop circuit section of a motor.
Capacitor Connector Lead Wires (5 Sets)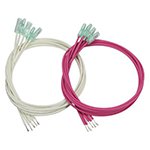 Lead wire set for AC motor capacitors.
5 sets 1 part number = 5 sets (10 lead wires).  5 White / 5 Red
Be sure to use capacitor cover
Mounting Bracket

This is an aluminum die cast mounting bracket for geared motors.
Long, horizontal holes make it easy to make fine adjustments during installation.
*For use with Parallel Shaft or Round Shaft types.
System Configuration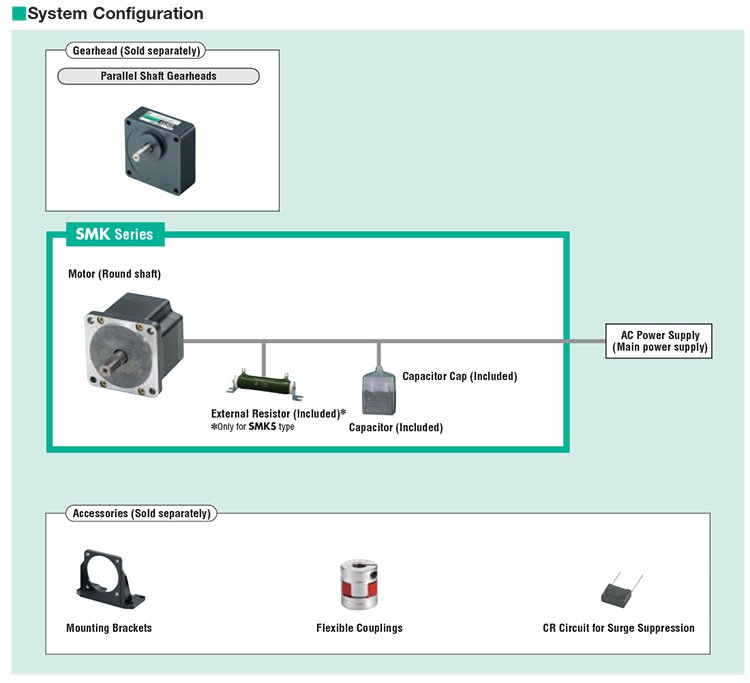 CAD / Manual Search
To locate product CAD and Operator Manuals please search using the product Item Number.
Downloads
Videos
Technical Articles
Reference
Questions? We're Here to Help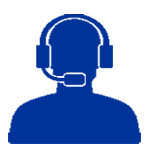 Business Hours:
Monday to Friday
8:30am EST to 5:00pm PST
Sales & Customer Service:
1-800-418-7903
Technical Support:
1-800-GO-VEXTA (468-3982)