Support: 1-800-468-3982 Sales: 1-800-448-6935
KIIS Series Three-Phase Gear Motors for Inverters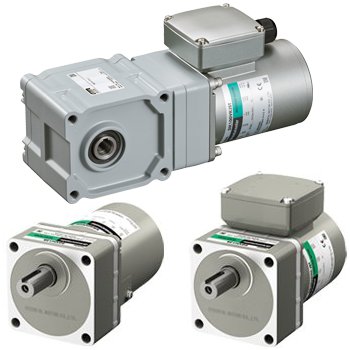 KIIS Series Three-Phase Gear Motors for Inverters
Oriental Motor, which has set the standard for AC motors, listened and has sought out the next generation in AC motors with the KIIS Series Three-Phase AC gear motors.
The Three-Phase KIIS Series offers an optimally designed, high efficiency next generation three-phase gear motor that incorporates higher strength gears that maximize the motor performance.
H1 Food-Grade Grease-Compatible gear motors available.
Parallel Shaft or Right-Angle Gear Motors or Round Shaft (no Gear) Models
Imperial or Metric Shaft options
Lead Wire or Terminal Box types
Three-Phase 220/230 VAC
AC Gear Motor Lineup
Output Power

Type

Gear Type

Output Shaft

Options

Power Supply

Permissible Torque*

Lead Wire
Terminal Box

Parallel Shaft or
H1 Food-Grade
Parallel Shaft

3/4 in. or
18 mm

Electromagnetic
Brake

Three-Phase
220/230 VAC

23 ~ 350 lb-in

2.6 ~ 40 N·m

Round Shaft
(no Gear)

12 mm

80 ~ 97 oz-in

0.57 ~ 0.69 N·m

Terminal Box

Right-Angle Hollow Shaft Gear

15 mm

-

Three-Phase
220/230 VAC

36 ~ 470 lb-in

4.1 ~ 53.9 N·m

Terminal Box

Parallel Shaft

22 mm

-

Three-Phase
220/240 VAC

Three-Phase
380/415 VAC

53 ~ 610 lb-in

5.1 ~ 70 N·m

Round Shaft
(no Gear)

14 mm

160 ~ 191 oz-in

1.13 ~ 1.35 N·m
*Torque and Speed vary based on input voltage and frequency, please review product specifications for details.
High Performance AC Gear Motors
100 W (1/8 HP)
200 W (1/4 HP)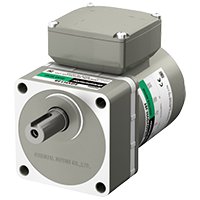 High Efficiency at a Maximum of 77.8%*
Specialized components and optimal magnetic design are used to make high efficiency three-phase motors with a maximum efficiency of 77.8%*. Motors are fanless, with increased motor output and significant loss reduction.
*200 W (1/4 HP) KIIS Series meets IE4 Standards.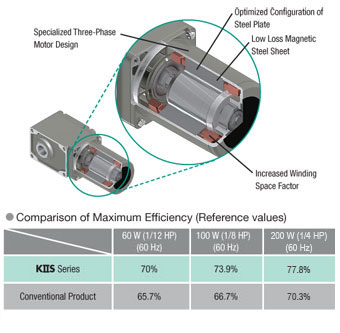 High Performance
Characteristics have been improved through pursuit of the specifications required for the three-phase motor and a review of the design to create a high-performance motor with little speed reduction even with a large load.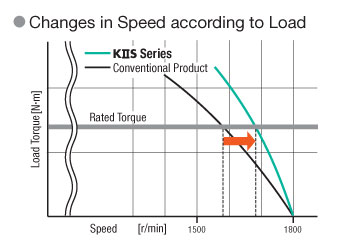 Power Consumption Reduced by up to 10%
Compared to a conventional 90W product under the same conditions, power consumption is reduced by a maximum of about 10%, contributing to the the equipment's energy savings.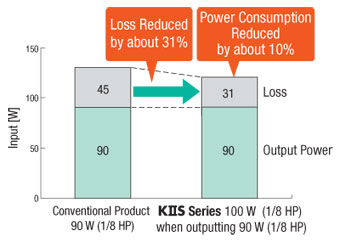 Increased Motor Output
Output power of 100 W (1/8 HP) in a 90 mm (3.54 in.) frame size is achieved through increased efficiency. An overall length 15mm (0.59 in.) shorter than the conventional product contributes to equipment downsizing.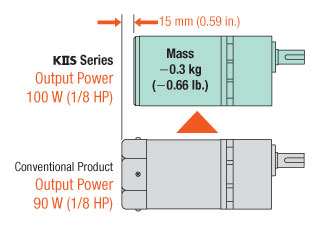 Fanless
With reduced loss, there is less heat generation in the motor, so the cooling fan is no longer needed. With no cooling fan, dust is not blown around.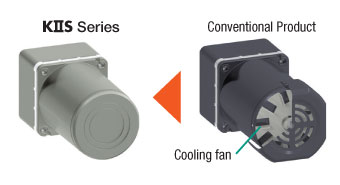 Equipped with an Easy-to-Wire, Slim Body Terminal Box
This new shape of terminal box is designed to make wiring the terminal block easier. It has a slim body, with a cable outlet that can be rotated in 90° increments for 4 possible directions.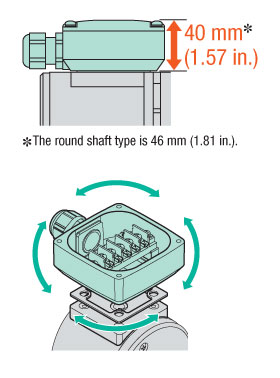 IP66-Compliant Drip-Proof Specification
The seal structure for the motor, gearhead and terminal box components has been strengthened. The terminal box type* is compliant with the IP66 degree of protection.
*Excluding installation surface of the round shaft type.
IP66:
The IP indication that shows the watertight and dust-resistant performance are specified under IEC 60529 and IEC 60034-5.
Main Specifications:
Material
Case and terminal box: Aluminum
Output shaft: S45C
Screws: Stainless steel (externally facing screws only)
Surface Treatment
Case and terminal box: Painted (excluding installation surface)
Best Characteristics Achieved when Combined with Inverter
Wide Range of Speeds
Speed can be controlled over a wide range using an inverter, from 3~120 Hz*. Also, with improved characteristics, high torque can be exerted even at low speeds.

Improved Speed Stability
Because it is a high-performance motor with little speed reduction even with a large load, stabilized speed control is possible.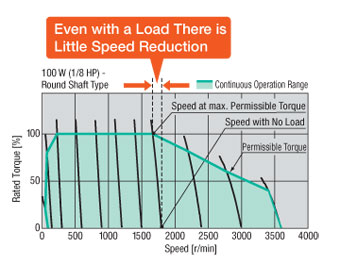 Handles High-Speed Rotation (Round shaft type)
Creep-free bearings, etc. are used in the round shaft type and components capable of handling high-speed rotation have been selected and designed for inverter control.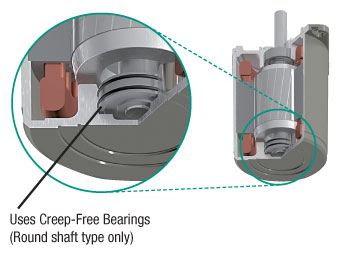 Performance Examples with Third-Party Inverters / VFD
100 W (1/8 HP)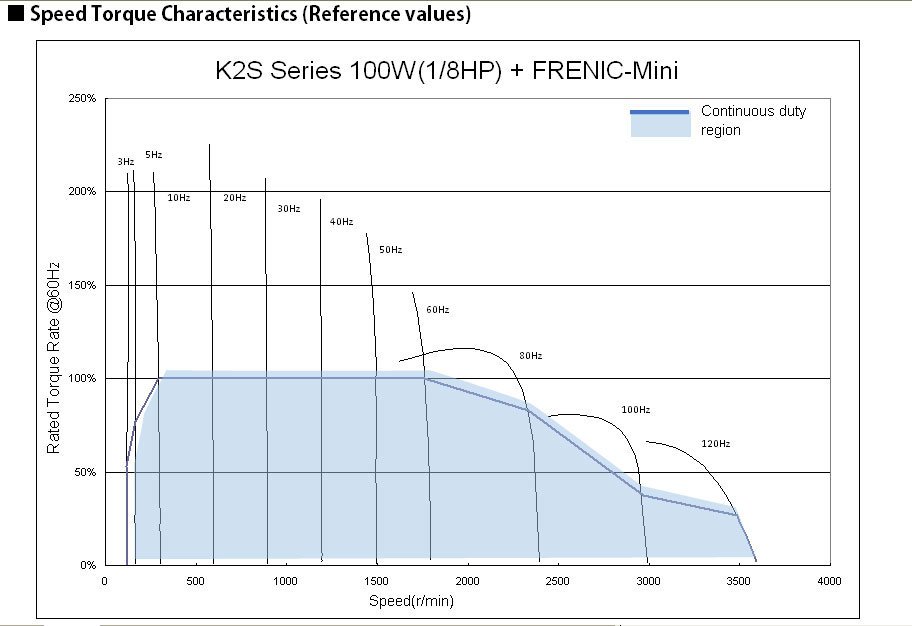 200 W (1/4 HP)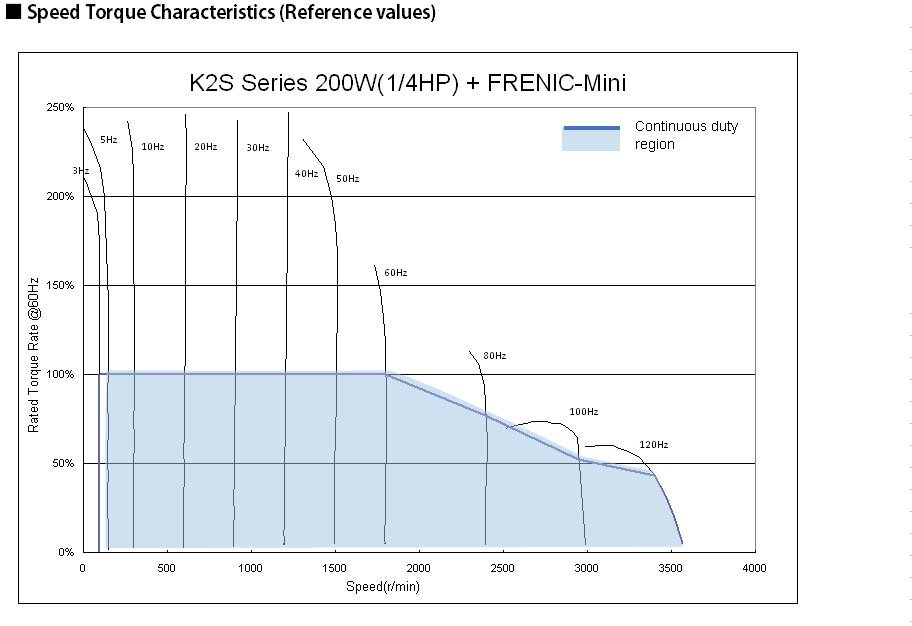 H1 Food-Grade Grease-Compatible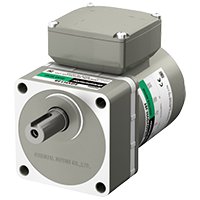 H1 Food-Grade Grease-Compatible Gearhead
The gearhead uses the NSF registered H1 food-grade lubricant (grease).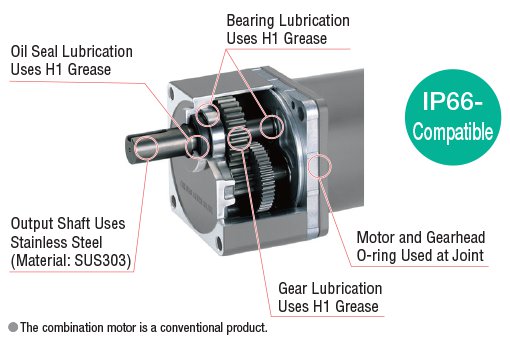 What is H1 Food-Grade Grease?
It is a grease registered by the NSF as part of a category where the "lubricants used in food-processing environments where there is the possibility of incidental food contact."
What is NSF International?
NSF is an American-based international, third-party certification body which provides global services such as development of standard, product certification, auditing, training and risk management for the public health and environmental sectors.
Parallel Shaft Combination Type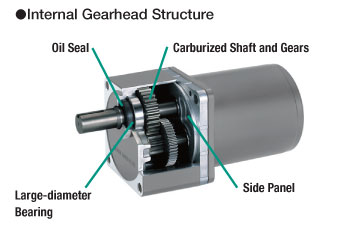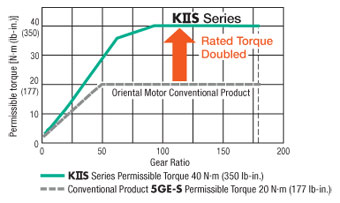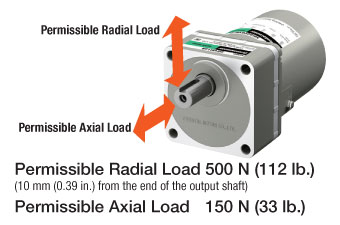 High Strength
Permissible overhung load and permissible thrust load have doubled compared to conventional products*. This has been made possible by increasing the case rigidity, adding larger diameter bearings and improved gear strength through heat treatment.
*The same in some products.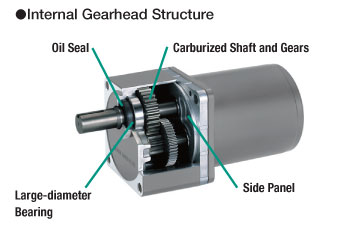 Permissible overhung load and permissible thrust load have doubled compared to conventional products. (40 W vs. 25 W comparison).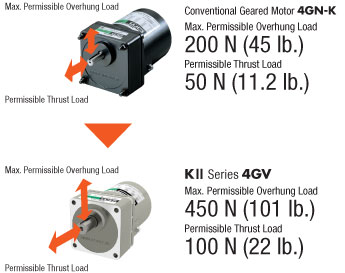 Long Life
The gearhead ball bearing diameter has increased, resulting in doubling the life of the gearhead (10,000 hours compared to the rated life of 5,000 hours for conventional gearheads). Performing maintenance has decreased as a result of the longer life.
The rated life has doubled compared to conventional products.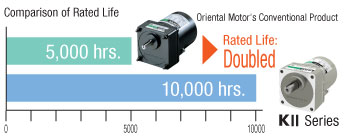 Quiet
The motor and gearhead noise (meshing sound) has decreased by approximately 6 dB compared to conventional motors. Put into perspective, the noise level has decreased by 50%.
The gearhead noise has been decreased by 6 dB compared to conventional products.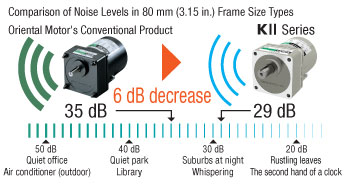 Combination Type
The motor and gearhead come pre-assembled and ready to install. Concerns of damage resulting from improper gearhead installation leading to abnormal noise in the shaft are eliminated.
Easy installation thanks to the pre-assembled motor and gearhead.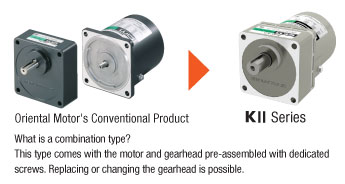 High Gear Ratio
Decimal gearheads were once required for gear ratios above 1:180. Now a single gearhead is available (up to 1:360), saving space and reducing components and costs.
No decimal gearhead is required, allowing the total length to be shortened.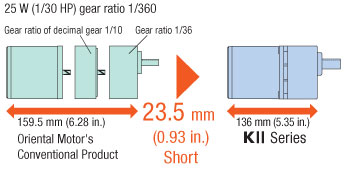 Tap Output Shaft
An end tap has been integrated into the tip of the output shaft of gearheads, with a rated output power of 25 W (1/30 HP) and higher. The tap can be used to prevent pulleys and other transmission mechanisms from slipping.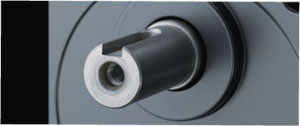 Right-Angle Hypoid Gear JH Gearhead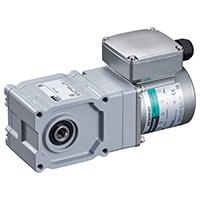 Motors with terminal box conforming to IP66 rating for degree of protection.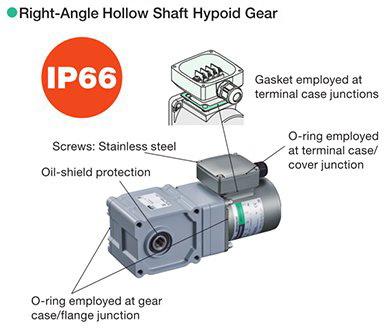 The JH Right-Angle Hypoid Gearhead uses an output shaft made of stainless steel, which has excellent rust and corrosion resistance.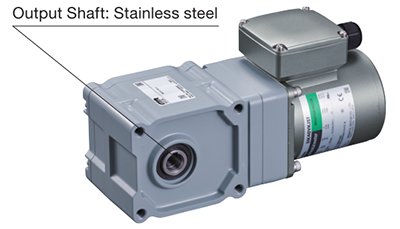 Electromagnetic Brake Type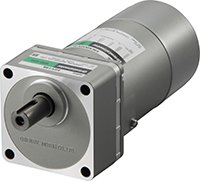 These motors have a "power off" activated type electromagnetic brake to hold the load in position when the power is cut off.
Ideal for Applications Required Load Holding
This configuration is ideal for vertical applications where the load must be held.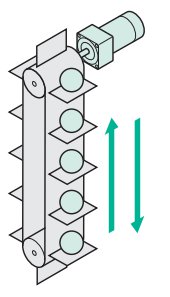 Inverter / VFD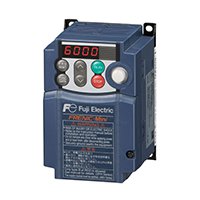 With its high functionality, compact design, simple operation and global compatibility, the new FRENIC-Mini (C2) elevates the performance of a wide range of devices and equipment--including conveyors, fans, pumps, centrifugal separators, and food processing machines--to give you the system integration, energy efficiency, reduced labor, and lower overall costs you're looking for.
Single-Phase 115 VAC or 230 VAC input, Three-Phase 230 VAC or Three-Phase 460 VAC input.
CR Circuit for Surge Suppression

This product is used to protect the contacts of a relay or switch used in the forward/reverse circuit section or the instantaneous stop circuit section of a motor.
Flexible Couplings

These products are clamp type couplings used to connect a motor or gearhead shaft to the shaft of the equipment.
Mounting Bracket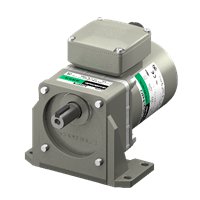 This is an aluminum die cast mounting bracket for geared motors.
Long, horizontal holes make it easy to make fine adjustments during installation.
Torque Arm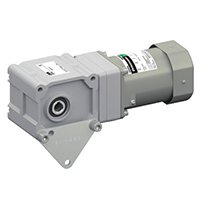 A torque arm acts as an anti-spin mechanism when a right-angle shaft, hollow hypoid JH gear is installed to prevent gearheads from rotating due to reactive force from shafts being driven.
| | |
| --- | --- |
| Output Power | Item |
| 100 W (1/8 HP) | |
System Configuration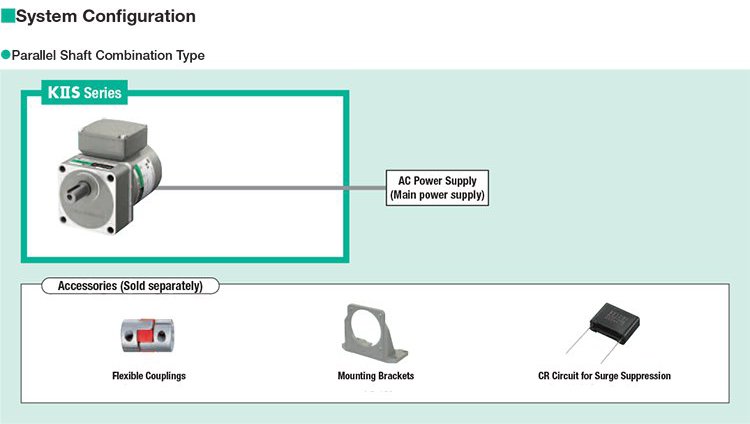 CAD / Manual Search
To locate product CAD and Operator Manuals please search using the product Item Number.
Downloads
Videos
Technical Articles
Reference