Support: 1-800-468-3982 Sales: 1-800-448-6935
FPW Series IP67 Three-Phase Washdown AC Gear Motors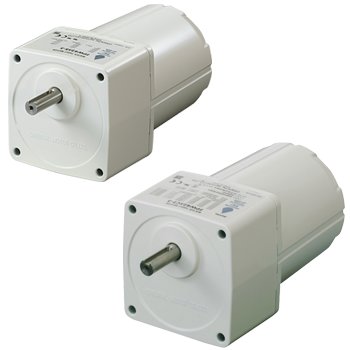 FPW Series IP67 Three-Phase Washdown AC Gear Motors
The FPW Series are washdown AC induction gear motors ideal for applications where they are splashed with water. All FPW Series washdown AC motors conform to the IEC standard IP67 (Recognized by UL). Each washdown motor and gearhead comes pre-assembled with gear ratios from 3:1 to 180:1.
Output power is available from 25 W (1/30 HP), 40 W (1/19 HP), 60 W (1/12 HP) up to 90 W (1/8 HP) models.
Parallel Shaft Gear Motors
Three-Phase 200/220/230 VAC
AC Gear Motor Lineup
Output Power

Type

Gear Type

Power Supply

Permissible Torque*

Cable

Parallel Shaft

Three-Phase 200/220/230 VAC

3.6 ~ 70 lb-in

0.41 ~ 8 N·m

Cable

Parallel Shaft

Three-Phase 200/220/230 VAC

5.5 ~ 88 lb-in

0.63 ~ 10 N·m

Cable

Parallel Shaft

Three-Phase 200/220/230 VAC

8.6 ~ 132 lb-in

0.98 ~ 15 N·m

Cable

Parallel Shaft

Three-Phase 200/220/230 VAC

12.3 ~ 260 lb-in

1.4 ~ 30 N·m
*Torque and Speed vary based on input voltage and frequency, please review product specifications for details.
IP67 Washdown AC Gear Motors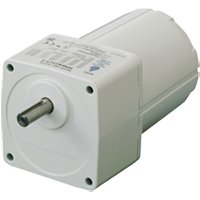 Washdown, Watertight and Dust-Resistant Performance IP67
The FPW Series washdown gear motors are watertight, dust-resistant geared induction motors which conform to the IEC standard IP67. They can be used where they are splashed with water.
*Not available for use under high pressure jets of water or immersion in water.
IP67: the letters, "IP" stand for "Ingress Protection" and are followed by two numerical digits which indicate degrees of protection and solid objects and moisture. Specified with IEC 60529 and IEC 60034-5. 
FPW Series IP67 protection are UL recognized (UL File No. E166348).


Designed and Constructed for Watertight and Dust Resistance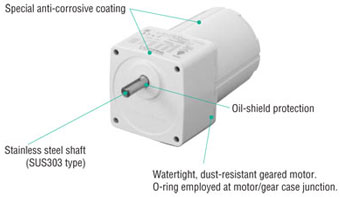 Improved Anti-Corrosion Properties
High corrosion resistance is achieved through special anti-corrosive coating and re-examination of shaft material [stainless steel (SUS303 type)].
Conforms to Major Safety Standards and Global Power Supply Voltages
The FPW Series washdown gear motor is recognized by UL and CSA and certified under the China Compulsory Certification System (CCC System). CE Marking is used in accordance with Low Voltage Directive. Additionally, our wide range of products include those that meet the power supply voltages of major countries in Asia, North America and Europe.
Inverter / VFD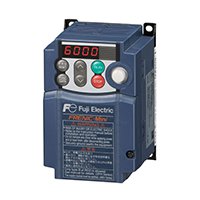 With its high functionality, compact design, simple operation, built-in network capabilities and global compatibility, the new FRENIC-Mini (C2) elevates the performance of a wide range of devices and equipment--including conveyors, fans, pumps, centrifugal separators, and food processing machines--to give you the system integration, energy efficiency, reduced labor, and lower overall costs you're looking for.
Single-Phase 115 VAC or 230 VAC input, Three-Phase 230 VAC or Three-Phase 460 VAC input.
Watertight Power Relay Box

The power relay box conforms to IP65 only when used with an extension cable for watertight type for FPW Series.
Mounting Bracket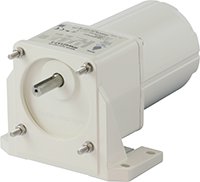 This is an aluminum die cast mounting bracket for geared motors.
Long, horizontal holes make it easy to make fine adjustments during installation.
Watertight Extension Cables

Use with the watertight power relay box. An extension of 16.4 ft. (5 m) and 32.8 ft (10 m) is possible.
| | |
| --- | --- |
| Item | Length |
| | 16.4 ft. (5 m) |
| | 32.8 ft. (10 m) |
System Configuration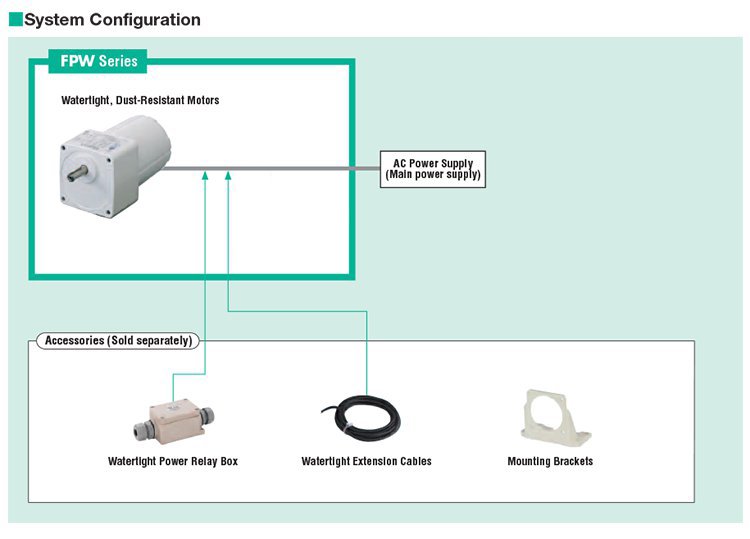 CAD / Manual Search
To locate product CAD and Operator Manuals please search using the product Item Number.
Videos
Technical Articles
Reference
Videos
Enclosure Fans
IP68 Splash Proof Axial Fans