Support: 1-800-468-3982 Sales: 1-800-448-6935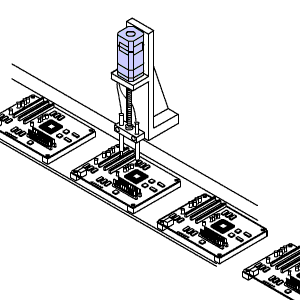 Centering a Substrate
For precision linear motion Oriental Motor offers the compact linear actuators and linear cylinders. Both feature Oriental Motor stepper motors in compact all-in-one linear motion products and offer fast and accurate motion.
For system solutions requiring connection to an upper level controller, PLC or HMI, Oriental Motor offers several networked products to allow for easy control using I/O or RS-485 / Modbus (RTU) networks.

Applicable Products
Linear Motion - Linear Actuators
When automated equipment is designed, various factors must be taken into consideration including the production line layout, installation environment, ease of maintenance, configuration of electrical wiring and control system, and so on. This means many man-hours are needed to select the motor and other mechanical components and create a parts list, drawings, operating manuals, and the like. Use of linear actuators can reduce this time.
The linear actuators are equipped with a stepper motor offering excellent controllability providing them advantages over hydraulic and pneumatic actuators:
The linear actuator is very stable when operated, even at low speeds. It also offers smooth acceleration and deceleration operation.
Motions can be programmed with multiple stopping points.
With a linear actuator using a stepper motor, adjustment of position and speed can be performed easily using data. Setup change is also simple, all you need to do is change the data.
| | |
| --- | --- |
| Type | Features |
| | Compact linear actuators feature a stepper motor is integrated with a ball screw. An ideal actuator for pushing and pulling small loads or find-tuning applications. |
| | Linear actuators - cylinders feature a stepper motor integrated with a linear motion mechanism, which makes the actuator ideal for pushing and pulling a load. |
Networked - I/ O, RS-485 / Modbus (RTU) and Factory Automation Conveyor Applications
Oriental Motor offers Network products under the FLEX concept, meaning each product is equipped with an interface that connects to various master controllers featuring I/O, RS-485 / Modbus (RTU) or Factory Automation. Networked products enable operating data and parameters for each motor to be set at a Master Controller and sent to each driver. In addition, operation commands can be input send set using various communication methods to meet the need of a wide range of available Network Solutions.
Available Network Solutions
1. I/O - Allows the driver to be connected directly to a controller or PLC to configure the operating system with I/O.
2. RS-485 / Modbus (RTU) - Operating data and parameters can be set and operation commands can be input using RS-485 communication. Up to 31 drivers can be connected to each serial communication module. Also there is a function that enables the simultaneous start of multiple axes. The protocol supports Modbus (RTU), enable connection with devices such as a touch screen (HMI) or PCs.
3. Factory Automation Network - Use of a network converter (sold separately) enables support with CC-Link, MECHATROLINK or EtherCAT communication. Operating data and parameters can be set and operation commands can be input using various communication methods.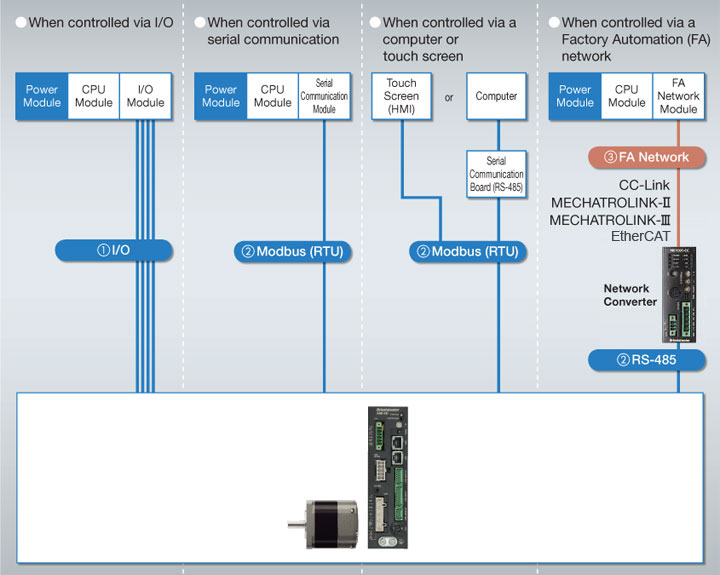 For Connecting to Factory Automation (FA) Networks
The communication protocol of the master controller, Factory Automation (FA) network, is converted to Oriental Motor's own RS-485 communication protocol. Connection to FLEX-compatible products is completed with one RS-485 communication cable.

Compatible Networks:

CC-Link

MECHATROLINK-II

MECHATROLINK-III

EtherCat
Motor Sizing Tools
Questions? We're Here to Help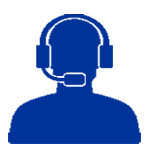 Business Hours:
Monday to Friday
8:30am EST to 5:00pm PST
Sales & Customer Service:
1-800-418-7903
Technical Support:
1-800-GO-VEXTA (468-3982)