CAD / Manual Search
To locate product CAD and Operator Manuals please search using the product Item Number.
Oriental Motor offers a wide range of motion control products to meet a wide range of applications, select the appropriate application type below.

We're Here to Help
Business Hours - Monday to Friday, 8:30am EST to 5:00pm PST

For English or Espanol:
For Japanese:

U.S.A. Customers:
Sales - 1-800-448-6935
Customer Service - 1-800-418-7903
Tech Support – 1-800-GO-VEXTA (468-3982)
International Customers:
+1-847-871-5931 or
+1-310-715-3303
For Japanese:
1-800-746-6872 or
+1-310-715-3304
Support: 1-800-468-3982 Sales: 1-800-448-6935
New DR Series Compact Linear Actuator Expanded Frame Sizes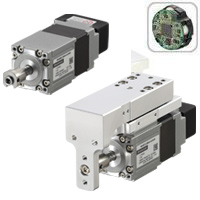 Now Available with 20 mm and 28 mm Rolled Ball Screw Frame Sizes
Torrance, CA – October 05, 2021
Oriental Motor is pleased to announce the latest addition to the expanded line-up of our popular AZ Series with the expanded line-up of the DR Series compact linear actuator.
The DR Series compact linear actuator is a high precision ball screw actuator fitted with our AZ Series stepper motor with absolute mechanical encoder.  The absolute encoder is a mechanical multi-turn absolute sensor, so an external sensor or battery is not required. The compact body of the DR Series houses the entire linear motion mechanism. This conserves space, reduces installation time and eliminates or reduces wiring and design costs while providing a compact and lightweight design element to the equipment.
The new expanded line-up consists of the DR Series Table Type and Rod Type, which now includes 20mm and 28mm (rolled ball screw) frame sizes. The Guide Rod Type now includes 28 mm rolled ball screw frame size.
The actuator is available with or without a guide, electromechanical brake, and rolled or precision ground ball screws. Many DC input driver types are also available, Built-in
Controller (Network Types), Pulse Input with RS-485 Communications or Pulse Input Type.
Contact our Technical Support group at 800-468-3982 email techsupport@orientalmotor.com, or visit the web page at: https://www.orientalmotor.com/linear-actuators/compact-linear-actuators-drs-series-absolute-encoder.html
###
ABOUT ORIENTAL MOTOR
Since its founding in Japan in 1885, Oriental Motor has been a world leader in motion control systems.  For over a century, we have concentrated on technological advancement and product design improvement — an emphasis evident in the sophisticated devices we market today.
Connect with Oriental Motor: Facebook, LinkedIn, Twitter and YouTube