1-800-GO-VEXTA (468-3982)
DRS2 Series Compact Linear Actuators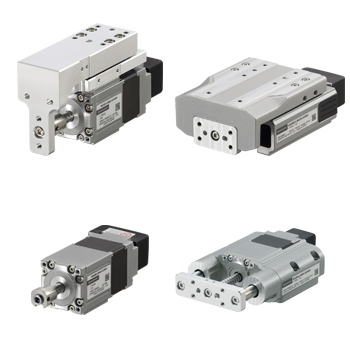 DRS2 Series Compact Linear Actuators with Absolute Encoder Stepper Motors
The DRS2 Series uses the AlphaStep AZ Series stepper motor and driver. The actuator is equipped with the Mechanical Absolute Encoder Stepper Motor. The Absolute Encoder is a mechanical multi-turn Absolute Sensor, so an external sensor is not required. This helps to save space and reduce wiring, as well as more compact and lightweight design of the equipment. Actuator is available with or without a Guide. Electromechanical Brake, and Rolled or Ground ball screws.
Built-in Controller (Stored Data) allows for easy networking and simplified multi-axis control.
AZ Series Absolute Encoder Stepper Motor
Built-in Controller (Network Type), Pulse Input Type or Pulse Input Type with RS-485 Communications Drivers
24/48 VDC Input
Repetitive Positioning Accuracy

Ground Ball Screw = ±0.003 mm
Rolled Ball Screw = ±0.01 mm

Mechanical Absolute Encoder
Linear Actuator Lineup
Actuator Type

Driver Type

Power Supply

Available Options

Thrust Force

Stroke

42 mm (1.65 in.) Linear Actuator with Guide

24/48 VDC

Electromagnetic Brake

50 N

200 N

11.2 lb

45 lb

40 mm

1.57 in.

42 mm (1.65 in.) Linear Actuator

24/48 VDC

Electromagnetic Brake

50 N

200 N

11.2 lb

45 lb

40 mm

1.57 in.

60 mm (2.36 in.) Linear Actuator

24/48 VDC

Electromagnetic Brake

500 N

112 lb

50 mm

1.97 in.
Compact Linear Actuators
Reliable Design and Structure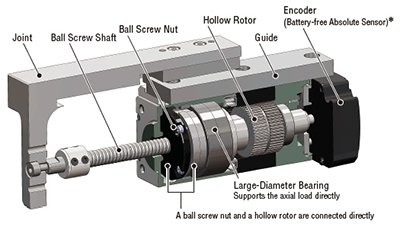 A hollow rotor and a ball screw nut are joined. Since no connecting parts are necessary, there is less backlash than when coupling rigidity, etc. combines other parts. Therefore, highly accurate positioning can be achieved.
High Positioning Accuracy
The ball screw nut is linked with the hollow rotor. Through the coupling rigidity and other aspects of parts combination, the impact of backlash has been minimized achieving high-precision positioning.

Ground Ball Screw
Ideal for applications where high positioning accuracy and low vibration are required, such as optical devices and semiconductor systems that use fine-feed pitches. The DRS ground ball screw type achieves high reliability by maximizing the performance of a 5-phase stepper motor.
Rolled Ball Screw
Ideal for general positioning applications where reliability and ease of use are given priority. It combines the superior thrust and resolution of the ground ball screw type with greater ease of use.

Compact Body Houses Entire Linear Motion Mechanism
Since customers do not need to provide parts, the time needed for installing, designing, and selecting parts can be reduced. The number of man-hours required for assembly and adjusting the installation accuracy can be reduced, contributing to higher productivity.
Installation Time Reduced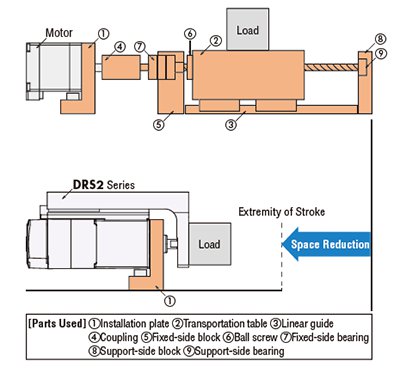 Space Saving and Less Wiring with the Absolute Sensor
In addition to the compact and lightweight body, the motors with absolute sensors do not require a home sensor. This saves space and wiring, and lets you avoid routine maintenance or trouble caused by using a home sensor.

Application Examples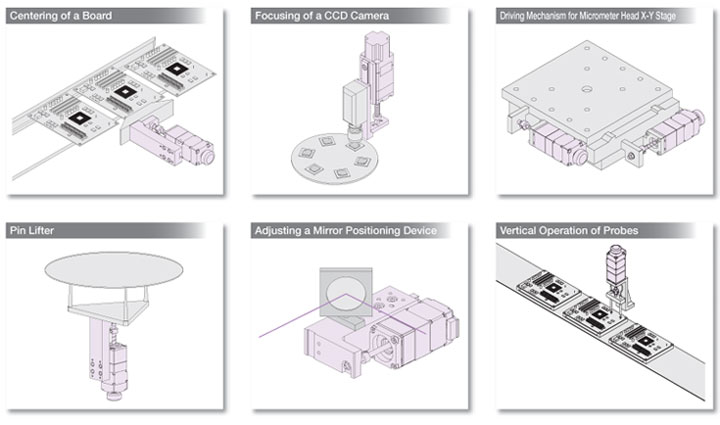 Efficient Push-Motion Operation
Flexible Pushing Force and Timing
The AlphaStep DRS2 Series can easily perform a push-motion operation after a positioning operation. Also, the pushing force and timing are adjustable.
You can set the pushing force and push timing to an operation data No., and then select the data No. to change the settings.
There are different ways to change the pressing phases, such as dropping the force so that the position does not shift, slowly increasing
the force, or rapidly increasing the force.

Pressing at Low Speed
The motor can approach the load at high speed. The motor decelerates just before hitting the surface at low speed.
Since the pressing impact is minimal, a mechanism for shock absorption is not required.
The motor can approach at high speed just before reaching the surface, thus reducing the takt time.

Push-Motion Operation with Pulse Input Type
When T-MODE input is set, push-motion operation is possible, without the overload alarm for the pulse input type being generated.
This is useful for push-motion operation while using pulse signal control.
AZ Series Absolute Sensor Stepper Motor
Newly Developed Absolute Sensor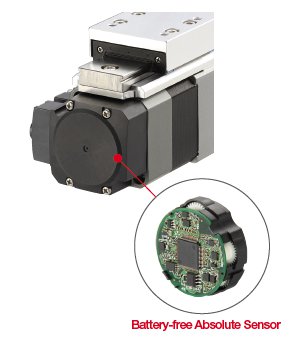 Oriental Motor has developed a compact, low-cost, battery-free mechanical type absolute sensor (patented). This can help improve productivity and reduce costs.
Mechanical-Type Sensor
A mechanical sensor composed of multiple gears is employed. Positioning information is detected by recognizing the angle of the individual gears.
Multi-turn absolute sensor
Absolute position detection is possible with ±900 rotations (1800 rotations) of the motor shaft from the reference home position.
Home Setting Method
The home position can be easily set by pressing a switch on the driver's surface, which is saved by the Absolute Sensor. In addition, home setting is possible with the data setting software (MEXE02) or by using an external input signal.
Battery-free
No battery is required thanks to a mechanical-type sensor. Positioning information is managed mechanically by the absolute sensor.
Holding Positioning Information
Even if the power shuts down during a positioning operation or
the cable between the actuator and the driver is disconnected,
the positioning information is retained. With the built-in controller
type, you can restart the positioning operation, without performing
return-to-home after an emergency stop on the production line or
a blackout.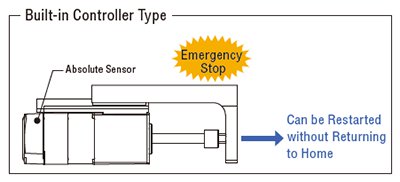 Reduced Maintenance
Because there is no battery that needs replacing, maintenance time and costs can be reduced.
Unlimited Driver Installation Possibilities
Because there is no need to secure space for battery replacement, there are no restrictions on the installation location of the driver, improving the flexibility and freedom of the layout design of the control cabinet.
Safe for Overseas Shipping
Normal batteries will self-discharge, so care must be taken when the equipment requires a long shipping time, such as when being sent overseas. The Absolute Sensor does not require a battery, so there is no limit as to how long the positioning information is maintained. In addition, there is no need to worry about various safety regulations, which must be taken into consideration when shipping a battery overseas.
No External Sensors Required
With the use of the absolute system, external sensors such as the home sensor and the limit sensor are not needed.
High Speed Return-to-Home
Because return-to-home is possible without using an external sensor, return-to-home can be performed at high speed without taking the specifications for sensor sensitivity into account, allowing for a shortened machine cycle.
Reduced Cost
Sensor costs and wiring costs can be reduced, allowing for lower system costs.
Simple Wiring
Wiring is simplified, and the degree of freedom for equipment design is increased.
Not Affected by External Sensor Malfunctions
There is no need for concern about sensor malfunctions, sensor failures, or sensor wire disconnections.
Improved Return-to-Home Accuracy
Home position accuracy is increased because the return-to-home operation is performed regardless of any variations in home sensor sensitivity.
*If no limit sensor is installed, movements that exceed the limit values can be avoided through the use of the limits in the driver software.
AlphaStep Control System
Hybrid Control System
The hybrid control system constantly monitors the motors position allowing for the benefits of performance from "open loop" control while providing the assurance of "closed loop " performance.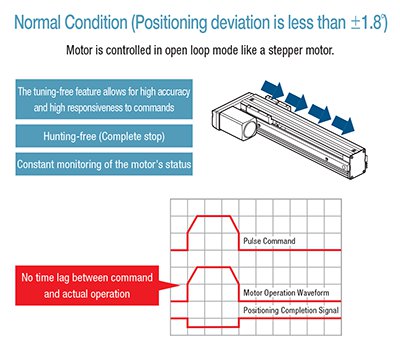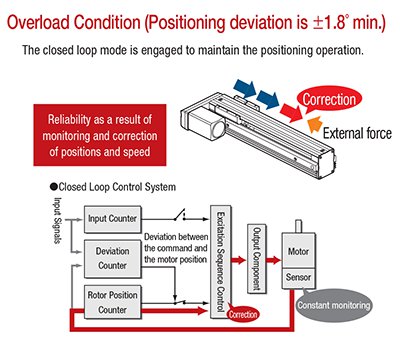 Built-in Controller (Network Type)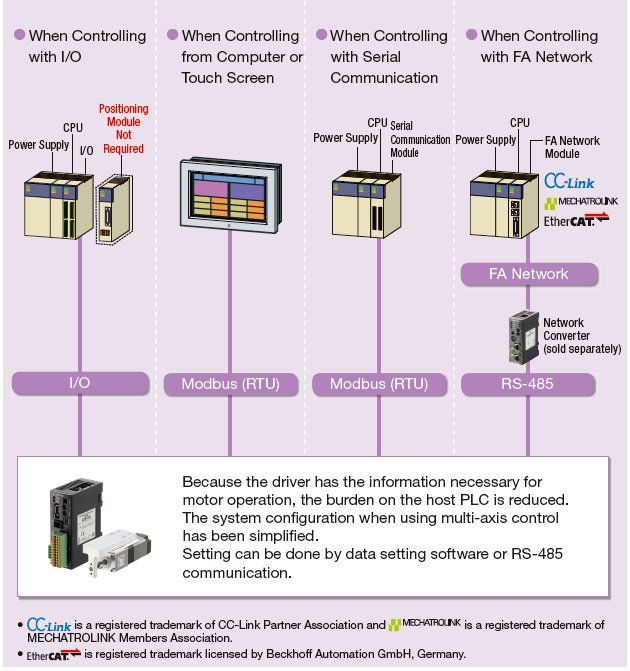 1. I/O
Because the positioning unit (pulse generator) function is built in to the driver, you can build an operation system using I/O by directly connecting to a switch box or PLC. Because a positioning unit is not necessary on the PLC side, space is saved and the system is simplified.
Using a Switch Box - Because operating data is set in the driver, the actuator can be started and stopped simply by connecting a switch you have on hand. Control can be performed easily without using PLC.
Using PLC - When using PLC you can build an operation system by connecting directly to an I/O unit. Because a positioning unit is not necessary on the PLC side, space is saved and the system is simplified.
Using PLC and a Touch Screen - Normally, the actuator is started and stopped with I/O. Changing the operating data settings and displaying the monitors and alarms is performed with the touch screen using Modbus (RTU) communication. When there is a lot of setup work, changes can be easily performed on the touch screen, and the burden of creating ladders is reduced.
2. Modbus (RTU) / RS-485
Operating data and parameters can be set and operation commands can be input using RS-485 communication. Up to 31 drivers can be connected to each serial communication unit. Also, there is a function that enables the simultaneous start of multiple axes. The protocol supports Modbus (RTU), enabling connection with devices such as touch-screen panel computers and PCs.
3. Industrial Network
Using a network converter (sold separately) enables support with EtherCAT communication, CC-Link communication, and MECHATROLINK communication. Operating data and parameters can be set and operating commands can be input using various communication methods.
Guide Type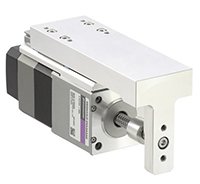 Compact linear actuators with built-in guide reduces the need for an external anti-spin mechanism further reducing parts required for designing your applications.
High Transportable Mass and High Speed are Achieved
Maximum Transportable Mass
Horizontal direction: 10 kg [Lead 2 mm], 5 kg [Lead 8 mm]
Vertical direction: 10 kg [Lead 2 mm], 5 kg [Lead 8 mm]
Maximum Speed
50 mm/sec [Lead 2 mm], 200 mm/s [Lead 8 mm]


Standard Type
42 mm (1.65 in.)
60 mm (2.36 in.)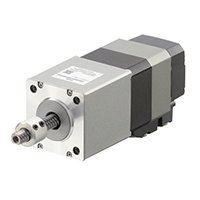 The standard compact linear actuators, no guide type, require the use of an Anti-spin Mechanism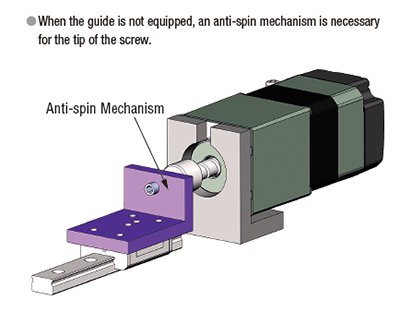 Electromagnetic Brake
42 mm (1.65 in.)
60 mm (2.36 in.)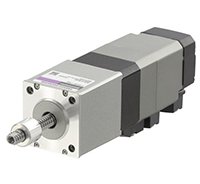 The load position can be held when the power is cut off. Since the work will not fall in case of power failure or disconnection, you can safely use equipment in which the work moves vertically.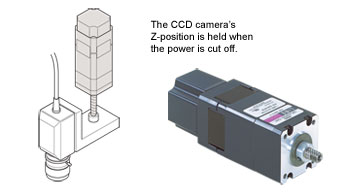 Network Gateways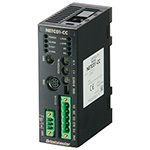 The communication protocol of the master controller, Factory Automation (FA) network, is converted to Oriental Motor's own RS-485 communication protocol. Connection to Oriental Motor's network compatible products is completed with one RS-485 communication cable.
Compatible Networks:
CC-Link, MECHATROLINK-II, MECHATROLINK-III, EtherCat
*For use with Stored Data (Network) type



SCX11 Universal Controller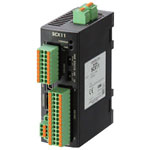 The SCX11 is a highly-functional and sophisticated controller equipped with program editing and execution functions. Use the SCX11 as a stored program controller to connect to any of Oriental Motor's standard pulse input drivers. The SCX11 is also able to control the motor via serial communications such as USB, RS-232C and CANopen.
*For use with Pulse Input Type driver.
RS-485 Communication Cable

These cables are used to link drivers when a built-in controller type is being operated in a multi-drop manner.
*For use with Stored Data (Network) type and Pulse Input Type with RS-485 Communication
Cables for Single-Axis Drivers

These cables are used to connect or extend the distance between the motor and single-axis driver.
Required (sold separately).
Use a flexible motor cable if the motor is installed on a moving part or its cable will be flexed.
*Multi-Axis Controller / Driver requires different cables

Control Options - Data Setting Software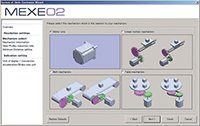 MEXE02 Data Setting Software.
*A standard USB to mini B cable is used to connect all drive options to the computer (sold by a third party).
Mounting Plate

A dedicated mounting bracket for installation of the DRL Series actuator. Each mounting plate comes with mounting screws for fastening the actuator to the plate.
| | |
| --- | --- |
| Model | Applicable Product |
| | DRSM42 |
| | DRSM60 |
General Purpose Cables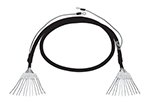 This is a shielded cable equipped with a half-pitch connector at one end of the cable that snaps onto the driver. The other end is laminated lead wires aligned in order at a pitch of 0.05 in. (1.27 mm), which is convenient for insulation displacement connectors.
| | |
| --- | --- |
| Item | Length |
| | 3.3 ft. (1 m) |
| | 6.6 ft. (2 m) |
System Configuration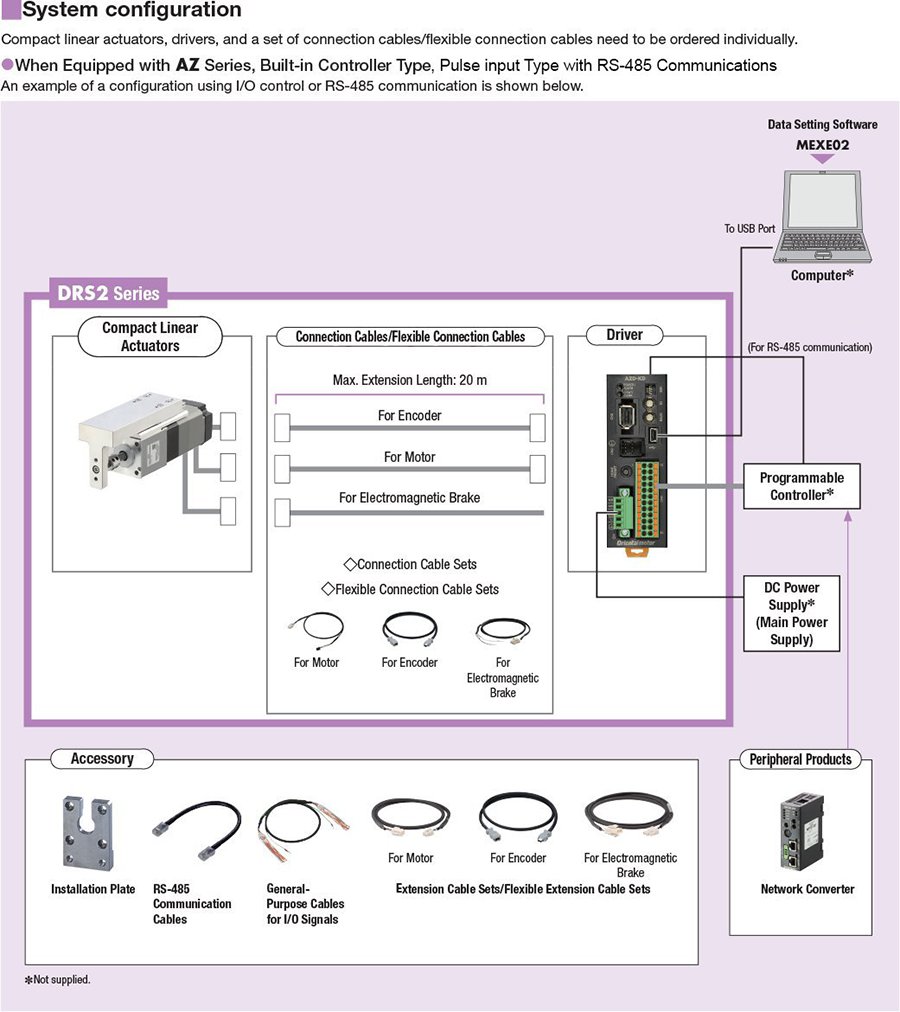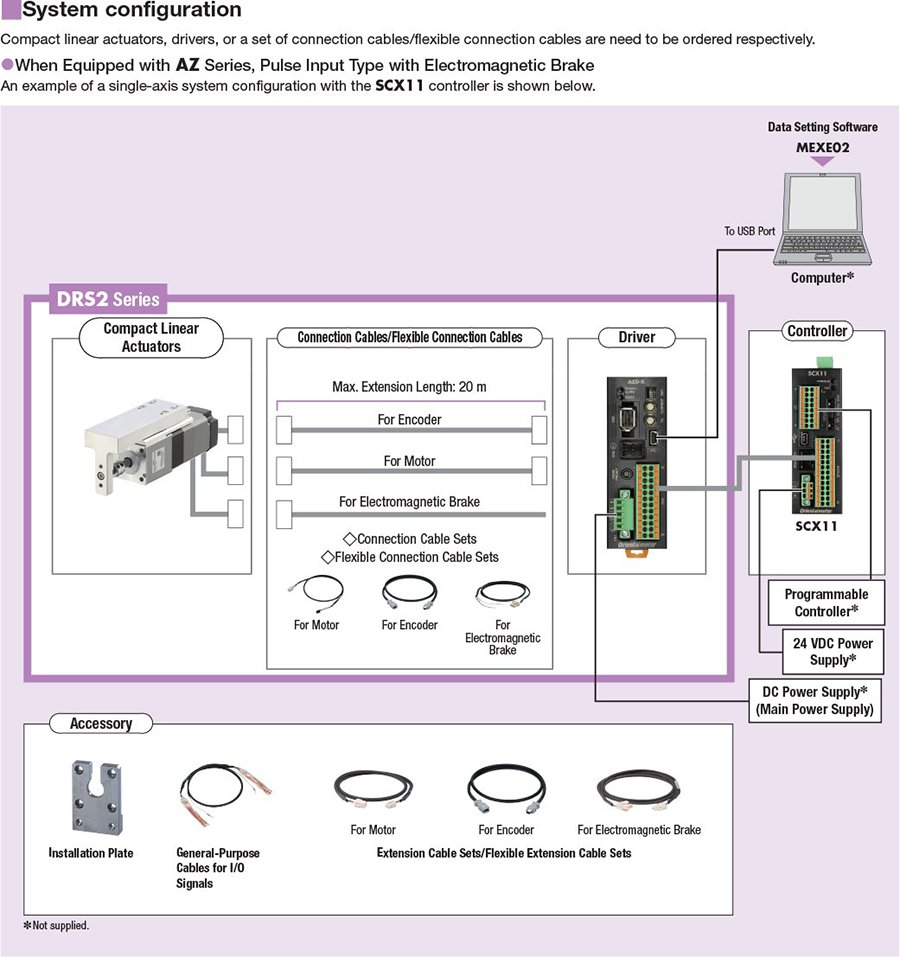 CAD / Manual Search
To locate product CAD and Operator Manuals please search using the product Item Number.
Technical Articles
Reference
Videos
Motorized Linear Cylinders
Rotary Actuators