Support: 1-800-468-3982 Sales: 1-800-448-6935
AC Cross Flow Fans - MF Series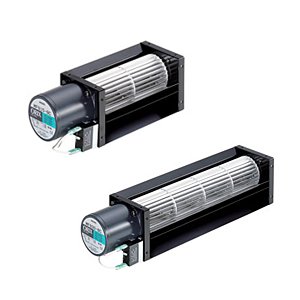 AC Cross Flow Fans - MF Series
The MF Series Cross Flow Fans provide a wide, uniform air flow suitable for many applications. The MF Series is available in lengths of 5.91 in. (150 mm) and 11.81 in. (300 mm).
Wide, Uniform Air Flow
Single-Phase 100/110/115 VAC or Single-Phase 200/220/230 VAC
Cross Flow Fan Lineup
Impeller Length

Power Supply (VAC)

Max Air Flow*

Max Static Pressure*

Single-Phase 100/110/115

145 CFM

4.1 m3/min

0.529 inH2O

132 Pa

Single-Phase 200/220/230

Single-Phase 100/110/115

240 CFM

6.8 m3/min

0.425 inH2O

106 Pa

Single-Phase 200/220/230
AC Cross Flow Fans
Cross Flow Fans
Cross Flow Fans deliver wide, uniform air flow. These fans provide right-angle air flow and a rectangular shape, allowing for installation in corners and space saving. Cross Flow Fans are suitable for cooling circuit boards or other applications requiring wide and uniform air flow such as air curtains.
Cooling of Long and Thin Space
Suitable for air-blow cooling of long and thin spaces, such as where electronic devices are installed.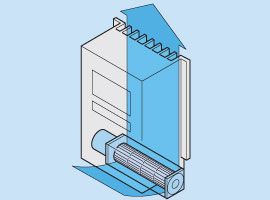 Uniform Cooling or Drying
Cross flow fans are suitable for the air-blow cooling of wide areas.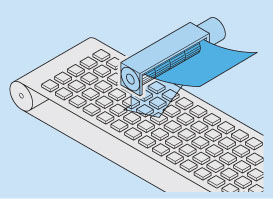 Thermostat Available for Energy Saving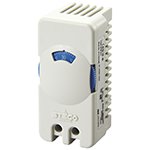 Thermostats (sold separately) make it possible for fans to operate only when cooling is necessary. Thermostats provide energy-saving by automatically stopping fans for example, at night, when the amount of heat generation declines following the load rate's decline in equipment, or in winter, when the ambient temperature drops and forced cooling is not necessary.
Thermostat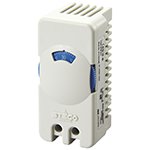 Thermostats automatically perform ON/OFF fan control in accordance with the temperature fluctuation inside the equipment. It helps improve the equipment's "environmental" performance relative to energy savings, noise reduction, etc.
| | |
| --- | --- |
| Type | Item |
| Centigrade (°C) | |
System Configuration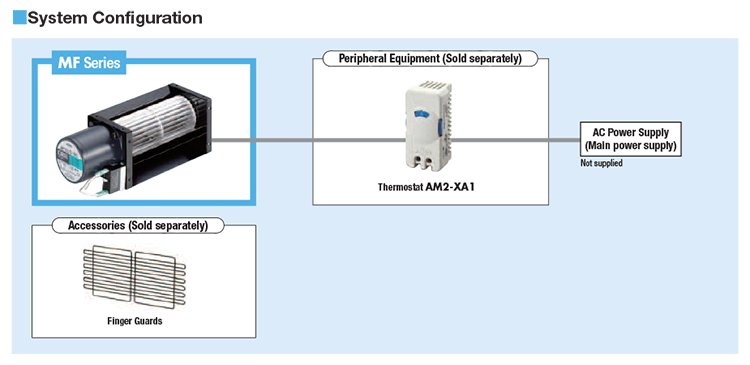 CAD / Manual Search
To locate product CAD and Operator Manuals please search using the product Item Number.
Downloads
Videos
Technical Articles
Reference