Support: 1-800-468-3982 Sales: 1-800-448-6935
CVD 5-Phase Stepper Motor Drivers (DC Input)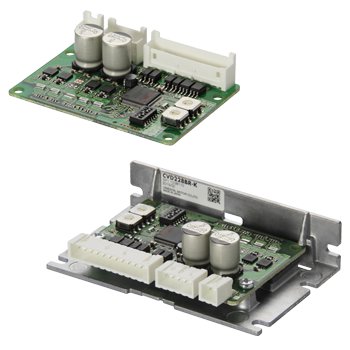 CVD 5-Phase Stepper Motor Drivers
The CVD 5-phase stepper motor driver offers superior performance and value and is ideal for OEM or single axis machines. The CVD stepper motor drivers offer:
Lowest Vibration and Noise with advanced Microstepping control
Significantly improves positional accuracy when microstepping
Small, thin microstepping drive with space saving FETs
Selectable step angle and microstepping filter control
Alarms
24 VDC Input
Stepper Motor Driver Lineup
Stepper Motor Drivers

Driver

Current

Motor Types

Power Supply


Mounting Plate

0.35 A/Phase

5-Phase

24 VDC

0.75 A/Phase

1.2 A/Phase

1.4 A/Phase

1.8 A/Phase

2.4 A/Phase

2.8 A/Phase

3.8 A/Phase


Board Only

0.35 A/Phase

5-Phase

24 VDC

0.75 A/Phase

1.2 A/Phase

1.4 A/Phase

1.8 A/Phase

2.4 A/Phase


Mounting Plate - RS-485 Communications

0.6 ~ 3.0 A

5-Phase

24 VDC


Mounting Plate (Right-Angle Type) - RS-485 Communications

0.6 ~ 3.0 A

5-Phase

24 VDC

Board Mounting Type
Driver Module - Horizontal Mount

I/O Setting

0.5 A ~ 2.4 A

5-Phase

24 VDC

SPI Communication

Board Mounting Type
Driver Module - Vertical Mount

I/O Setting

0.5 A ~ 2.4 A

5-Phase

24 VDC

SPI Communication
*This product is currently not available for ordering online, please contact your local sales office for more information.

5-Phase Microstepping Driver
Higher Torque
Through revisions to the motor winding design and a high-efficiency driver circuit design, the performance of the 5-phase stepper motors has been brought to their full potential, resulting in significant increases in torque in all speed ranges. Torque in the 500 r/min range has increased by 85% compared to conventional products.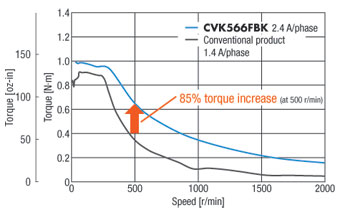 Reduced Vibration
The fully digital-controlled microstep driver has further improved the low vibration and noise reduction factors.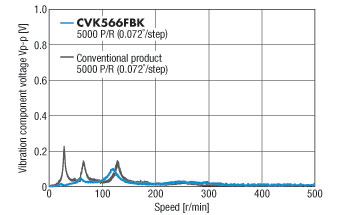 High Positioning Accuracy
In general, stopping accuracy tends to be lower during microstep operation* than full step operation and this effect is more noticeable in a 2-phase 1.8° motor. In this situation, using a CVK Series 5-Phase 0.72°/0.36° stepper motor enables a higher positioning accuracy.
*Max. resolution 125000 P/R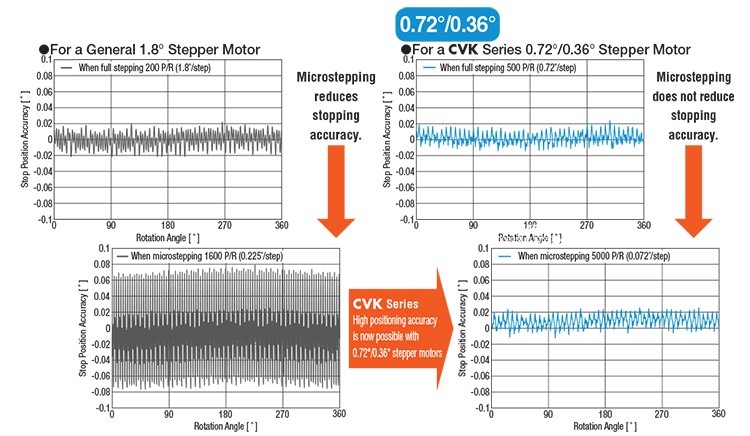 Common Driver Size Offers Flexibility in Motor Performance
The size, installation and I/O connectors for the CVK Series 2-Phase and 5-Phase drivers are the same. Because of this, it is easy to evaluate and select the proper package for your specific application.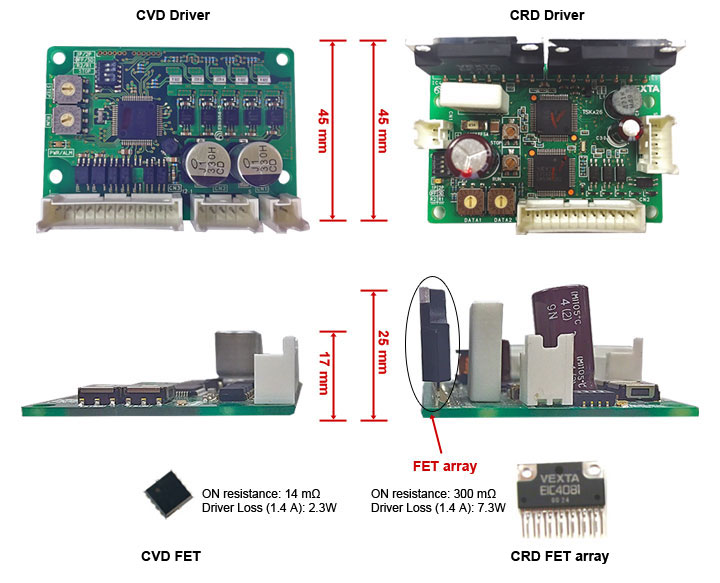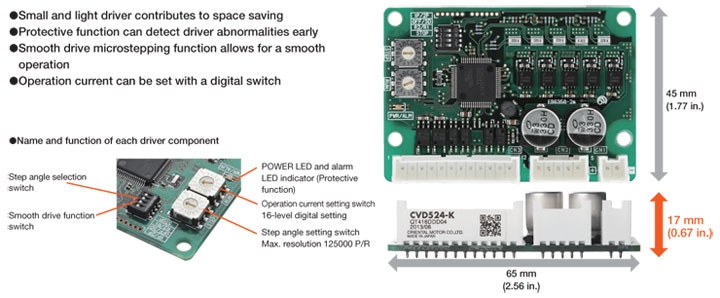 Selectable Step Angle and Run Current Control
The CVD driver has a step resolution switch to allow for matching the input pulse frequency of the controller. Simply use the step angle setting switch to set the input pulses desired. Output pulses are theoretical values as the Smooth Drive feature ensures maximum step performance operation of the stepper motor. The Smooth Drive microstepping control will still be utilized.
Smooth Drive is a function to achieve lower vibration and noise at low speed operation without changing the step angle setting. This function divides the step angle automatically in response to the pulse signals. There is no need to change the setting of the pulse signals (speed, number of pulses) on the controller side. Set the smooth drive function with the OFF/SD selection switch.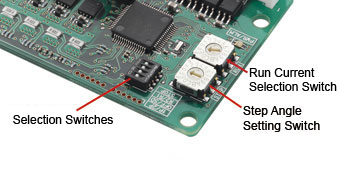 Run Current
The motor current for when inputting pulses (operating current) can be changed with the RUN Current switch. If the load is small and there is an ample allowance for torque, motor temperature rise can be suppressed by setting a lower operating current. The operating current is a value in which the operating current rate is multiplied by the rated current (100%). Minimum current is 25% of rated and selectable in 5% increments.
The CVD Driver can also be used with lower amperage stepper motors. Use the Run Current Selection Switch to match the motor current ratings.
Standstill Current
When the motor stops, the current cutback function will be actuated to lower the motor current to the standstill current. The driver standstill current rate can be switched between 25% and 50% using the STOP switch. When setting the switch to the OFF side, the standstill current rate will be set to 25%. Then setting the switch to the ON side, the standstill current rate will be set to 50%.
Alarms
Monitor the driver performance for early detection of any abnormalities. All CVD drivers have built in alarms to alert when there is a problem. The alarms are both a blinking LED and an Alarm signal to an upper controller. Alarms range from Overheat, Overvoltage, Overcurrent to EEPROM error and CPU error.

PKP Series 5-Phase Stepper Motors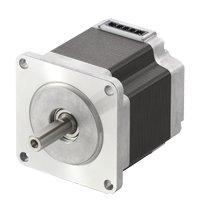 The PKP series stepper motor offers balanced performance enhanced by high torque, low vibration and low noise.
0.72° (500 pulse/rev) & 0.36° (1000 pulse/rev)
New Pentagon Winding
Encoders - 500 Lines of Resolution
SCX11 Universal Controller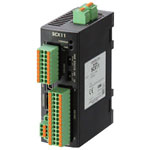 The SCX11 is a highly-functional and sophisticated controller equipped with program editing and execution functions. Use the SCX11 as a stored program controller to connect to any of Oriental Motor's standard pulse input drivers. The SCX11 is also able to control the motor via serial communications such as USB, RS-232C and CANopen. Accepts encoder inputs.
Driver Cable Set

As an accessory for DC input drivers, lead wires with a connector are available. These lead wires allow for easy connection of the motor, power supply and input/output signals. The connection cable set includes three connection cables (for motor, power supply and input/output signals).
| | |
| --- | --- |
| Item | Applicable Drivers |
| | CVD503, CVD507, CVD512, CVD514, CVD518, CVD524 |
| | CVD528, CVD538 |
Driver Mounting Bracket


This is a DIN Rail mounting bracket for drivers with installation plates.
Driver Cover

This cover provides protection for the driver and prevents accidental contact. For use with right-angle type connector type with installation plate.
System Configuration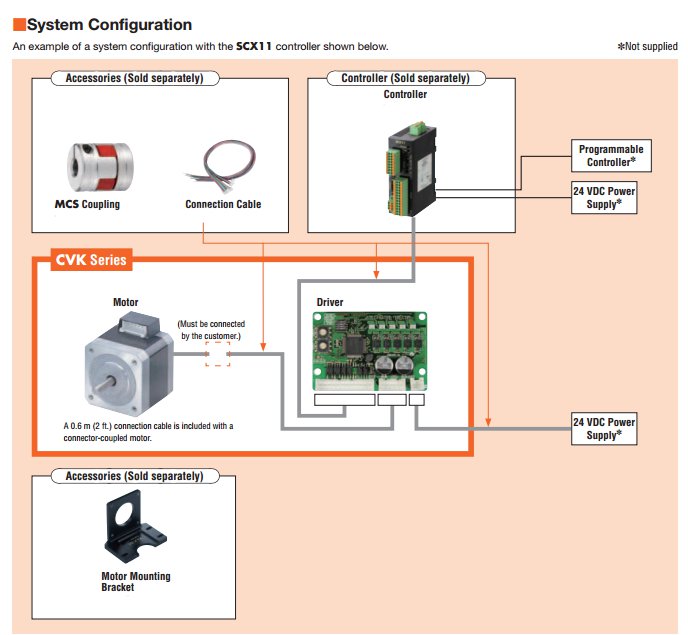 CAD / Manual Search
To locate product CAD and Operator Manuals please search using the product Item Number.
Videos
Technical Articles
Reference
Order Literature
Videos
5-Phase Stepper Motors
Controller