Support: 1-800-468-3982 Sales: 1-800-448-6935
BH Series Three-Phase AC Motors & Gear Motors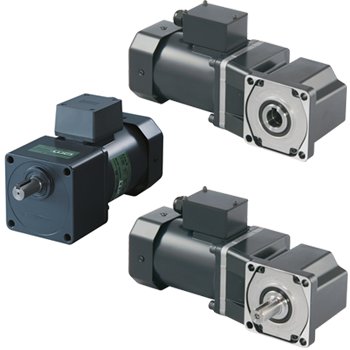 BH Series Three-Phase AC Motors & Gear Motors
The smallest high torque 1/4 HP AC induction gear motors, 4.09 in. (104 mm) and conforms to major safety standards and supports global power supply voltages.
200 W (1/4 HP)
Parallel Shaft and Right-Angle Hypoid Gear Types or Round Shaft models
Brake Motors Available
Cable or Terminal Box Types
AC Gear Motor Lineup
Output Power

Type

Gear Type

Output Shaft

Options

Power Supply

Permissible Torque*

Cable
Terminal Box

Parallel Shaft

18 mm

Electromagnetic Brake

Three-Phase 200-230 VAC

36 ~ 350 lb-in

4.1 ~ 40 N·m

Right-Angle Solid Shaft

22 mm

48 ~ 530 lb-in

5.5 ~ 60 N·m

Right-Angle Hollow Shaft

25 mm

48 ~ 530 lb-in

5.5 ~ 60 N·m

Round Shaft (no Gear)

14 mm

210 oz-in

1.52 N·m
*Torque and Speed vary based on input voltage and frequency, please review product specifications for details.
High Power 200 W (1/4 HP) AC Gear Motors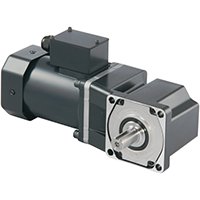 The BH Series offers the smallest frame size among 200 W (1/4 HP) AC gear motors.
Combination Type for Easy Installation
The combination type comes with the motor and gearhead pre-assembled. This enables easy installation in equipment.
Conforms to Major Safety Standards and Global Power Supply Voltages
The BH Series is recognized by UL and CSA and certified under the China Compulsory Certification System (CCC System). CE Marking is used in accordance with Low Voltage Directive. Additionally, our wide range of products include those that meet the power supply voltages of major countries in Asia, North America and Europe.
Types of Motors
| | |
| --- | --- |
| Induction Motors & Gear Motors | Electromagnetic Brake Motors & Gear Motors |
| | |
| Induction motors are optimal for uni-directional operation such as a conveyor system. | These motors utilize a power off activated type electromagnetic brake. Since the electromagnetic brakes exert holding power even when the power is off, they are highly suitable for use as emergency brakes. |
| Lead Wire or Terminal Box Type | Terminal Box Type |
Types of Gearheads & Gear Motors
Parallel Shaft 
Gearheads & Gear Motors

Right-Angle Hypoid
Gearheads & Gear Motors


Up to 350 lb-in of torque

Up to 530 lb-in of torque

Offset Parallel Shaft

Tapped Hole at the Shaft End
The gearhead shaft feature a tapped hole for convenient connection with loads.

Hypoid Gear Right-Angle Gearheads
The gear shaft is positioned at right-angles with the motor shaft, enabling space saving.

Hollow Shaft and Solid Shaft Types are Available
Select an appropriate type that suits your specific application.
Inverter / VFD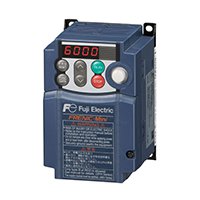 With its high functionality, compact design, simple operation, built-in network capabilities and global compatibility, the new FRENIC-Mini (C2) elevates the performance of a wide range of devices and equipment--including conveyors, fans, pumps, centrifugal separators, and food processing machines--to give you the system integration, energy efficiency, reduced labor, and lower overall costs you're looking for.
Single-Phase 115 VAC or 230 VAC input, Three-Phase 230 VAC or Three-Phase 460 VAC input.
Torque Arm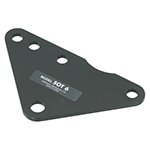 The torque arm serves as an anti-rotation guide for the gearhead when a right-angle hollow-shaft type gearhead is mounted on the shaft of a connected device.
| | |
| --- | --- |
| Motor Types | Item |
| Right-Angle Hollow Shaft | |
Flexible Couplings

These products are clamp type couplings used to connect a motor or gearhead shaft to the shaft of the equipment.
Mounting Bracket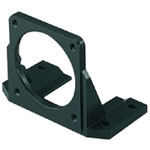 This is an aluminum die cast mounting bracket for geared motors.
Long, horizontal holes make it easy to make fine adjustments during installation.
*For use with Parallel Shaft or Round Shaft types.
Motor Types

Item

Parallel Shaft Gear

Round Shaft (no Gear)
CR Circuit for Surge Suppression

This product is used to protect the contacts of a relay or switch used in the forward/reverse circuit section or the instantaneous stop circuit section of a motor.
CAD / Manual Search
To locate product CAD and Operator Manuals please search using the product Item Number.
Videos
Technical Articles
Reference