Support: 1-800-468-3982 Sales: 1-800-448-6935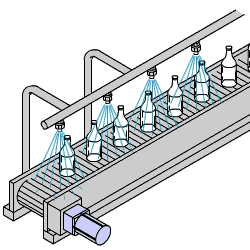 Showering Application / Washdown Conveyor
For applications where the motor is exposed to dust, water or other environmental elements, Oriental Motor offers the FPW series of IP67 rated watertight induction motors for fixed speed applications. For speed control applications, Oriental Motor offers several IP65 & IP67 rated Brushless DC Motor Speed Control packages.
Applicable Products
Speed Control Conveyor Belt Systems
For conveyors where the speed needs to controlled or vary during operation Oriental Motor offers Brushless DC Motors & Gear Motors (BLDC Motors) that offer a wide speed control range and constant torque regardless of load.
By combining a control circuit with the motor, speed changes can be performed. Speed control motors are optimal for switching between high speed and low speed operation and for arbitrary adjustment of speed.
| | |
| --- | --- |
| Setting Multiple Speeds and Switching Speeds | Arbitrarily Adjusting the Speed |
| | |
Type

Features

Output
Power

Speed Control 
Range

Power 
Supply

Brushless DC Motors & Gear Motors (BLDC Motors) provide high speed stability, energy saving and space saving. Brushless DC motors also allow for stable speed control even with a fluctuating load and offer constant torque over a wide speed range.

15 W (1/50 HP)
up to
400 W (1/2 HP)

80 ~ 4000 r/min

Single-Phase 100-120 VAC

Single-Phase 200-240 VAC

Three-Phase 200-240 VAC

24 VDC

48 VDC
Oriental Motor also offers a range of gear options to reduce the motor speed and generate greater torque.
Brushless DC (BLDC) Motor Gear Options
| | |
| --- | --- |
| Parallel Shaft Gearheads | Hollow Shaft Flat Gearheads |
| Parallel Shaft gearheads reduce the motor speed and generate greater torque. A wide range of gear ratios are available. | Direct connection to the drive shaft is possible without using a connecting part which enables equipment space saving. In addition, the hollow shaft flat gearhead enables permissible torque without saturation even at high gear ratios, so the motor torque can be fully utilized. |
Fixed Speed Conveyor Belt Systems
For fixed speed or constant speed conveyors and conveyor systems Oriental Motor offers a wide range of AC gear motors.
AC induction motors are ideal for conveyor systems that operate continuously in one direction. For conveyor systems where the load must be held in place or for vertical applications, there are a wide range of AC motors with power-off activated electromagnetic brake. For simple braking, our AC Speed Control Motors or Brake Pack are also convenient options. The IP67 rated washdown AC induction motors are suitable for conveyors that will be in contact with water or need to be washed. Synchronous motors are also available for conveyors where the motor needs to be operated continuously in one direction at synchronous speed regardless of load torque; the low-speed synchronous motor is ideal for frequent starting, stopping and reversing.
Type

Features

Output Power

Power Supply

IP67 or IP65 Rated Washdown AC Induction Motors are suitable for applications where the equipment comes in contact with water or needs to be washed with water.

25 W (1/30 HP)
up to 
3 HP

Single-Phase 100-115 VAC

Single-Phase 200-230 VAC

Three-Phase 200-230 VAC
Motor Sizing Tools
Questions? We're Here to Help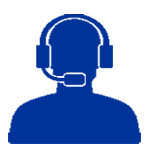 Business Hours:
Monday to Friday
8:30am EST to 5:00pm PST
Sales & Customer Service:
1-800-418-7903
Technical Support:
1-800-GO-VEXTA (468-3982)